Hair Loss Nutrition Guide,
Foods For Healthy Hair, and Seven Day Meal Planner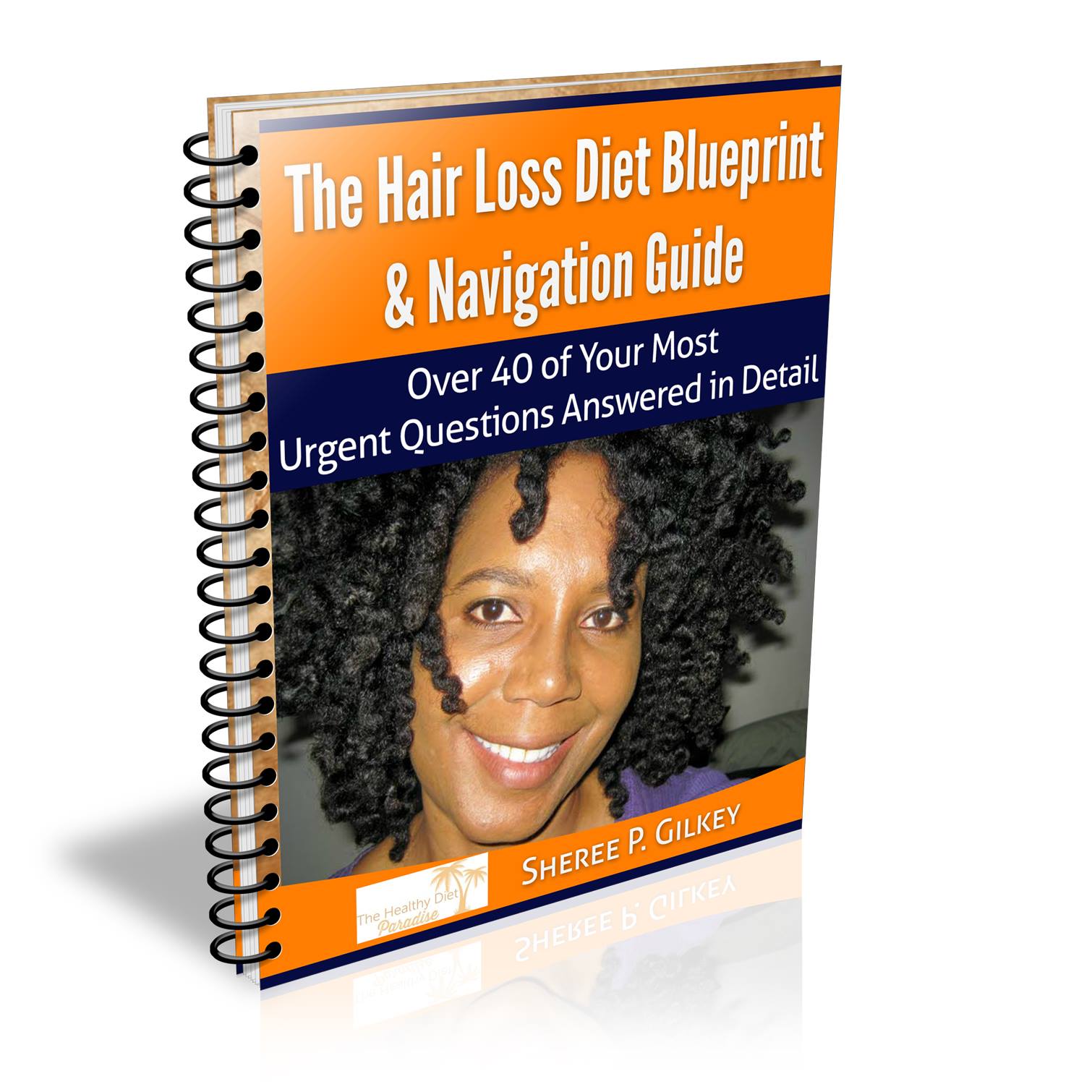 This is our updated seven-day hair loss nutrition menu. This guide for individuals who are following our hair loss diet program. There are many different types of acceptable foods for hair loss, but you can use this as a basic guide to assess your hair loss dietary regimen.
Your new diet will encompass a variety of cultures.  There are many different outstanding food choices from around the world. Every ethnicity can use a low glycemic method for hair loss.


You will notice that our hair loss nutrition planner has very few grains. When dealing with hair loss, breads and other grains need to be strictly regulated.  You can refer to our gluten informational page for more facts on gluten, wheat and hair loss.

Please note that with the hair loss diet, there are no pre-packaged foods or processed foods permitted.  Click here for more information on processed food and why you should avoid it.


The hair loss diet is very challenging. You may have to cook three times a day. You will have to learn completely new ways of eating. Keep your eyes on the prize. This works.

When you're eating low GI foods, you will never experience hunger.  As long as the foods fall below 55 on the glycemic index scale, they are perfectly fine to stop and reverse hair loss. These foods are very satisfying and rewarding. 

Any recipe featured on The Healthy Diet Paradise is classified as low glycemic foods.  Every single recipe is checked and qualified for admission into our hair loss diet program, and has to pass very strict standards.

Link here to our recipe page for lots more food options for your hair.
Our hair loss nutrition planner lists salads several times. The salads you need to eat should contain liberal amounts of raw purple cabbage, fresh cut up carrots, dark, juicy red tomatoes, plump avocados, crunchy cucumbers, raw spinach leaves, green onions and fresh bell peppers. So it actually becomes a vegetable salad. We use spinach.  Iceberg lettuce has no nutrients.

Always choose dark, heavy green leaves for best hair loss nutrition. If possible, eat this type of salad every day. And always eat the vegetables in the salad raw.

Red meat needs to be strictly moderated. Any recipe we have that shows red meat, you can substitute shrimp or chicken and add it to vegetables.

Although we show different types of foods, fish is king. We highly recommend a diet rich in wild caught, deep sea cold water fish. Wild-caught fish and salmon should have a healthy, deep sea odor. Farmed fish has no odor.

Our seafood of choice is Vital Choice.  Click here to learn about the properties of salmon and to order Vital Choice salmon.


We list different types of milk on this page.  It's very important to avoid soy milk and soy products because they've been linked to hair loss.  Please read our page on the dangerous side effects of soy.
For Best Hair Loss Nutrition Results:


For the fastest results, mix a heavy vegetable mixture with fresh fish at least ten meals per week. Some vegetables, like leeks and red Swiss chard, do not taste good. The reason they are so distasteful is because they are chock full of phytochemical plant compounds. 

Vegetables are stuffed with nutrients, and sometimes these plant chemicals have a very strong taste.  Your new diet requires plenty of vegetables. Vegetables very effectively reverse hair loss through a process called DNA remethylation. 

Try to eat vegetables along with natural black beans or pinto beans whenever possible. Natural beans also have plant compounds like choline that reverse hair loss. Cultures that eat beans as their staple have beautiful, thick hair. 

Click here for our black beans recipe.

Click here for leeks recipe.



Your new diet will remove sugary beverages.  As far as beverages go, water or green tea is the top solution for hair loss. Drinking water and green tea lowers inflammation in your body, and provides an ideal atmosphere for full, thick hair growth. No sodas, fruit juices, HFCS (high fructose corn syrup) or even diet sodas. Good clean water is all you need.  

Click here for our page on the nutritional properties of green tea.
Although fruit juice sounds harmless, it is not. Fruit juice of any type is a 100 on the glycemic index.
You will also notice that occasionally, we list dinner foods as breakfast foods. This reason for this is that most American breakfast foods are very high glycemic, and this switch is done out of necessity.

For More Hair Loss Nutrition Information
Follow Our Pinterest Board Below

Visit Sheree's profile on Pinterest.

Do you have questions about the hair loss diet?  Order The Hair Loss Diet Blueprint & Navigation Guide here.

Look at this delectable meal plan for hair loss.  It contains sockeye salmon, black beans and cheese, and sauteed bok choy.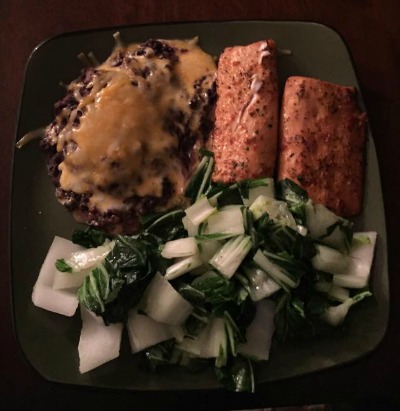 Seven-Day Hair Loss Nutrition & Menu Planner

Day 1: Breakfast: One bowl of steel cut oatmeal with fresh blueberries, almonds and nut milk, two slices of nitrate-free turkey bacon, one cup of water, green tea or Almond Breeze

Day 1: Lunch:Chicken, Onion & Vegetable Stirfry, quinoa or brown rice (optional), one large glass of water, snack: One apple and one stick of cheese

Day 1: Dinner: Roasted Chicken (video), fried green beans, mixed salad with avocado, 1/2 baked yam, cashew milk, lemon water

Day 2: Breakfast: Two scrambled eggs with diced block cheese, two slices of turkey bacon, four slices of oranges, one cup of home-made cashew milk or green tea

Day 2: Lunch: A bowl full of tuna made with 1/2 avocado, one tomato, one chopped up pickle, real mayonnaise, salt and pepper. Add diced block cheese if desired, water

Snack: One bag of unshelled peanuts and 10 baby carrots. 


Day 2: Dinner: Mahi Mahi (fish) sauted in olive oil, mixed colored bell peppers & red onions, one cup of brown rice, one cup of tea, water or coffee (no sugar)
This hair loss nutrition sample contains red quinoa, leeks and grilled salmon
What incredible flavor!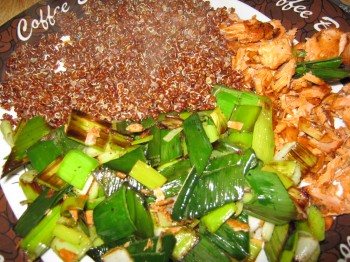 Day 3  Breakfast: Paleo bread french toast & cinnamon, home made compote syrup or no syrup, 1/2 cup cottage cheese, one cup of green tea, almond milk or water

Day 3 Lunch: Broiled chicken breasts topped with seasoning like parsley and provolone or mozzarella cheese, sauteed kale and red onions, one cup of lentils, one mango.

Day 3 Dinner: Salmon patties, brown rice, black or brown beans, chopped sauteed bok choy and onions, an apple for dessert.

Click here to learn how to prepare and cook bok choy.

Click here for our bok choy video recipe


Day 4: Breakfast:  One egg, cheese & onion omelet, eight large strawberries, one bowl of quinoa with organic grass-fed milk, one cup of water, green or black tea

Snack:  One can of sardines, one nectarine or plum.


Day 4 Lunch:  Chicken burrito bowl with cheese, avocado, black beans, brown rice, tomato and sour cream. This one is a keeper. I borrowed the idea from Chipotle's Restaurant. 


Day 4: Dinner: Chicken Adobo, full vegetable salad, brown rice, lemon water.



Best Hair Loss Nutrition Tip
Sardines are one of the most important foods for natural hair loss nutrition. Eat sardines daily whenever possible.

Make Banana Bread to Last the Whole Week

This bread is specifically made for and by The Healthy Diet Paradise. It does not use sugar or flour, and it's moist and sublime. This banana walnut recipe will amaze you, and it won't hurt your hair.  We took an actual gold medal winning recipe and modified it to become low glycemic and gluten free.

For a seven-day menu of gluten-free breakfast recipes that are healthy for your hair, click here!

For a complete list of safe snacks, click here!


For rules about how to use brown rice pasta with the hair loss diet, click here.  This page also has a recipe that's simple and easy to make.


Watch the video below for our Healthy,
Low Glycemic Banana Walnut Bread Recipe



To Control Blood Sugar, Eat Dinner for Breakfast

For top rated hair loss nutrition, you are encouraged to eat dinner foods for breakfast. This helps you to avoid boredom and monotony and increase your variety.

Eighty percent of American breakfast foods are high glycemic and should be avoided at all costs. These items include white flour pancakes, bagels, orange juice, regular breads, hash browns, grits, instant oatmeal, waffles, Pop Tarts, muffins, biscuits, boxed cereals, cinnamon rolls, donuts, et cetera.

If you desire something healthy for breakfast, try our zucchini bread recipe here!



Best Hair Loss Nutrition Tip: 
Avoid the Standard American Diet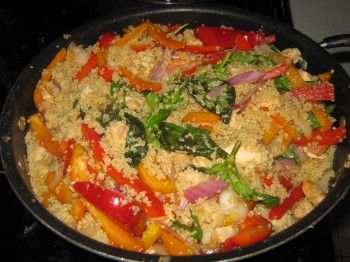 Day 5: Breakfast: Morning brown rice with raisins, bananas, vanilla, almond milk, cinnamon, Brazil nuts on top, lemon water or green tea.  This takes less than five minutes to prepare


Day 5: Lunch:  Broiled or pan fried salmon with spinach, purple cabbage, cherry tomatoes, scallions, raw broccoli, celery and shredded carrots, side of Peruvian beans. 


Day 5: Dinner:   Try our delicious broccoli, chicken, cheese and rice casserole



Day 6:  Breakfast: Two boiled free range eggs, 1/2 cup of unsweetened yogurt with cherries and walnuts, one large glass of water

Day 6: Lunch:  Salmon patties, lightly cooked red Swiss chard & onions, one cup of lentils, one large glass of water or a cup of green tea


Day 6 Dinner: Bell peppers, onions, bean sprouts & beef, brown rice, one cup of green tea  
Day 7 Breakfast: Quinoa & Chicken Recipe, coffee, water or nut milk

Day 7 Lunch: Grilled salmon, steamed Brussels sprouts, one cup of cashew or almond milk, one large glass of water.

Day 7: Dinner:  Leeks, Carrots and Onion Soup, pinto beans or black beans, brightly colored salad.
Don't Forget Dessert

When you've fully mastered the hair loss diet, be sure to click on our desserts recipe page.  We have a list of nine gorgeous desserts that fully pass our hair loss diet guidelines.  Click here to view the page.
Order the Hair Loss Diet Quick-List Download

Be sure to download the Hair Loss Diet Quick-List.  This 30-page PDF download gives detailed information on which foods to eat and which foods to avoid.  It's $9.99 with no tax or hidden fees.  100% money back guarantee within 30 days if you're not fully satisfied.  Download it to your Android, iphone, smart device or computer, and shop with confidence!
Click the button below to order the Hair Loss Diet Quick-List PDF Download.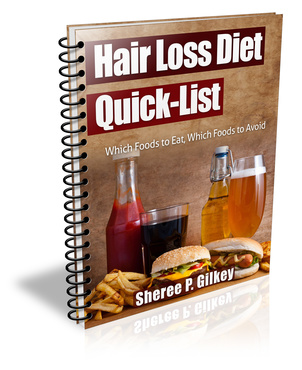 Thank You So Much For Visiting
The health and diet information at The Healthy Diet Paradise has not been evaluated by the Food and Drug Administration, and is for basic information purposes only. If you have any medical issues or concerns, please contact your health care provider.
© Copyright 2011 - 2020





Sheree Gilkey is a participant in the Amazon Services LLC Associates Program, an affiliate advertising program designed to provide a means for sites to earn advertising fees by advertising and linking to amazon.com