Hair Loss Diet eBook:
Hair Loss Diet Blueprint & Navigation Guide:


$14.99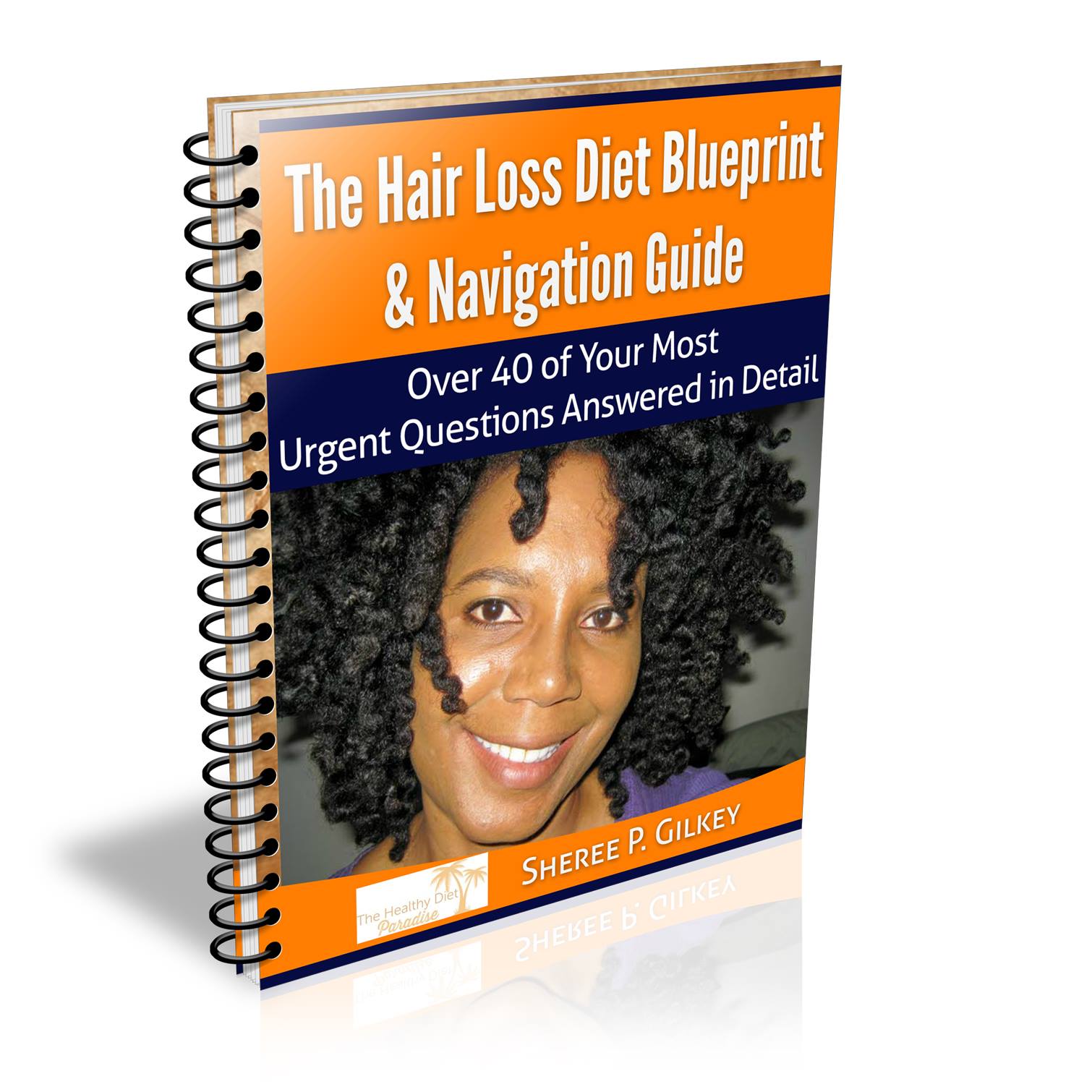 The hair loss diet eBook teaches you our clearly outlined science through commonly asked questions. 

Since the inception of the hair loss diet in 2011, our hair loss nutritional system has received tremendous inquiries and requests for additional information.  So I picked the most important and pertinent questions and answered them in detail.  

About the Author


My name is Sheree Gilkey, and I am a self-trained nutritionist.  I've worked extensively with clients both on-line and off-line for over eight years. The before and after pictures you see here are their gorgeous results. 

I learned this science after experiencing years of hair loss. I relentlessly and systematically studied on my own how to reverse the progression of hair loss naturally.  

After working with clients daily on the front lines, I have a unique perspective on how to rapidly reverse the progression of hair loss.


Successful Hair Recovery Stories


If you've read our hair regrowth stories, then you already know that our hair loss nutritional system is the clearest path to a lavish, glorious head of beautiful, thick hair.  

Read Noah, Brian and DeeDee's stories of hair regrowth! 

Watch our men's regrowth video here!

Watch Nat's time lapse hair regrowth video here!

Watch our hair regrowth congratulations video to our successful visitors.




Please Read the Main Hair Loss Diet Page Before Ordering the ebook


If you've landed on this page first, you're going to need to read the main hair loss diet page before ordering this hair loss diet ebook. 

Although this ebook is comprehensive, it will not make sense until you read the main page and absorb the concepts there.  There's a ton of information that you need to learn, and this ebook will assist you with this.


What's the Purpose of the Hair Loss Diet ebook?


Our specially designed hair loss diet ebook will teach you basic fundamental diet theories of how to grow a magnificent, lush, healthy head of hair.  


The eBook is designed as a supplemental guide to our website.  Think of it as a classroom study guide.  The information located in the hair loss diet eBook covers a wide variety of questions that are commonly asked after reading the main hair loss diet information. 

This hair loss diet eBook will help you to prevent many common errors associated with the diet that can stall or stop your regrowth results.  And unlike other programs, when you're done with this material, you're off and running.  No recurring fees whatsoever.  You learn the science and it's yours for life!

The Hair Loss Diet Blueprint & Navigation Guide acts as a supplemental orientation guide which brings everything into context.  Our 58-page ebook has been expanded, and we're now answering 46 questions in depth. 



The Paragraph Below Was Posted With Permission From A Young Male Coaching Client


"Scientists might not be able to find a way to reverse hair loss, but you did Sheree.  I hope you're proud.  And I hope someday your site gains the exposure it deserves, and I have a feeling it will happen someday. 

This diet will be hard for a lot of people to swallow (literally), but I think it's going to be huge. I'm not just excited that I'm growing my hair back, I'm excited that I'm able to partake in something this groundbreaking before it has reached the mainstream. I feel honored to be a part of this."

Message of Regrowth Below From Rodolfo

I tried to look for a natural solution for hair loss since I didn't have money yet to undergo hair transplant. Then one day I viewed this site and decided to follow the diet. I started to eat lots of veggies, especially the dark green leafy ones. My only source of protein are fish and eggs. 

And after a month, I noticed hair growing, first in my hairline.  I also noticed my hair becoming thicker, and I don't see my scalp any more whenever I look into the mirror.   I'm on my second a month, and if this continues, I'm pretty sure my hair will have grown back before the year ends.

I just wanna say thank you to the people behind this website, especially Sheree. Sorry for my bad English by the way. Again thank you and continue to spread this valuable information.
How to Use The Hair Loss Diet eBook


Not only does this hair loss diet eBook answer 46 of your most urgent questions, the linked pages are provided to deepen your understanding of terms and concepts related to the diet.  In order to fully appreciate the science supporting the hair loss diet, you are encouraged to study the related linked pages.



What to Expect


This hair loss diet eBook explains exactly what to expect when you first start the diet. This eBook features the top questions asked by our visitors in the forums, from private e-mails, from telephone coaching, from Twitter, YouTube and in person.

Our unique approach encompasses the hair loss diet science, along with  spiritual and emotional support and powerful motivation to get you excited.  This hair loss guide addresses some tough problems, like conquering emotional distress and how to cope with hair loss.

Our 58-page hair loss diet eBook covers emotional trauma, how to deal with family and friends, wheat and sugar, fast food, sweeteners, beef, coffee, cheating and much more.  We also discuss a powerful alternative to Rogaine that is 100% natural.



Listed Below Are Sample Hair Loss Diet Questions



The low price of $14.99 is irresistible.  There's no tax or additional fees, so $14.99 is the final price.This simplified hair loss diet guide is presented in a PDF format and can be quickly downloaded for your convenience.  


Click Add to Cart Button Below to Order


$14.99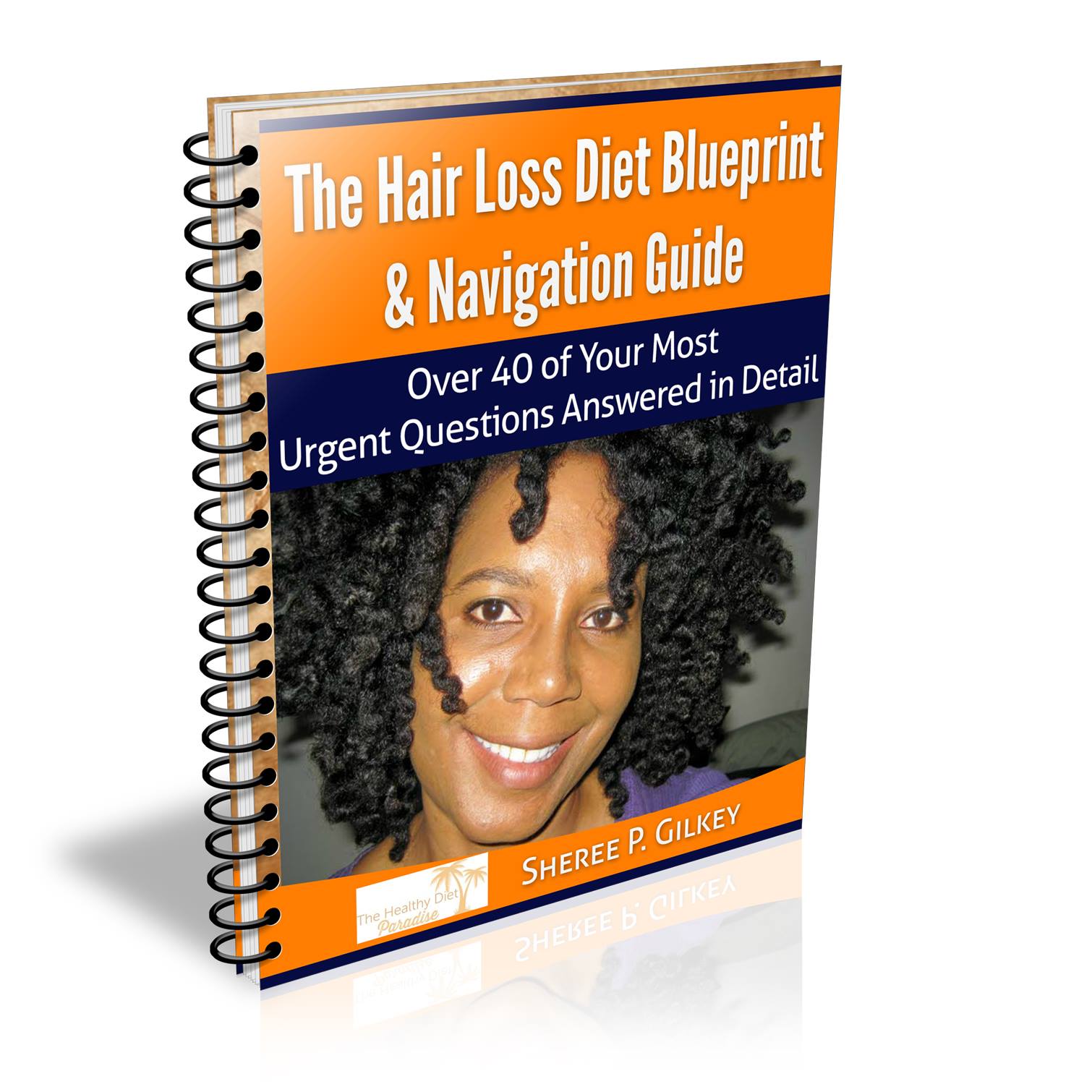 100% Money Back Guarantee Within 30 Days if
You're Not Fully Satisfied.  No Questions Asked!


Note:   This is Not  a Hard Copy




Order the Hair Loss Diet Quick-List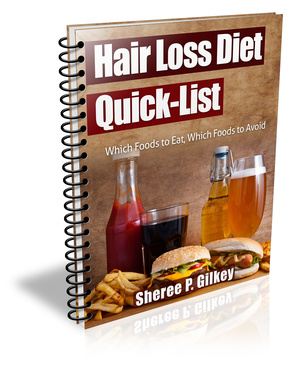 Don't guess at the hair loss diet!  Order the Hair Loss Diet Quick-List to supplement the main ebook. The Quick-List is a detailed list of which foods to eat, and which foods to avoid. 

The Quick-List is a gold mine because it systematically outlines the hair loss diet with a simple list.  The Quick-List strategically and carefully outlines the best and worst foods for your hair.

$12.99




The Hair Loss Diet Blueprint & Navigation Guide and Quick-List are File Downloads.

The link to the ebook comes straight to your email address, and you click the link ejunkie sends you.  Then you're prompted to download the ebooks directly onto your computer.  Once you download the ebook, you have instant access.  

Free Lifetime Replacement

If you ever lose your copy of either one of the eBooks, please use the "contact us" form to get a free replacement.  Please have purchase number ready.
Problems with downloads?  Use this contact form!