Hair Loss Diet Works For Men!!! Yesssss!
by Brian
(California)
Dear Sheree, I have been doing your diet for two months now and can say with out a doubt that this works. After one month my hair line was filling back in with tiny hairs and my hairs that were already there were getting strong, dark roots.


I was so excited that I decided to celebrate and I had nacho cheese dip with corn tortilla chips two nights in a row. After the first night binge, the next day I noticed the my hair limp and not sitting nicely like it previously had after the second night my hair started shedding again all my hard work lost. Now a month later I am back to where I was and am so excited.
My question is I like to snack on Claussen pickles, Mezzetta peppers, essential everyday brand canned beans which have your run of the mill preservatives and coloring agents. Do you think I can get away with these for snack or will this be my ruin???? Also I use a lot of vinegar in my salad dressings. Is this bad and is there any herbs or spices that are bad like mint and spearmint for tea???
I am a 28 year old male and have been dealing with hair loss for 2 years now mainly thinning and receding hair line.
Thank you so much for bringing this information to the light. I wouldn't have figured this formula out if I had a thousand years, yet it is so simple. Thank You Sheree!
Brian.
Should I be surprised...? I Don't Think So. Hair Loss Diet Works!
by George
My name is George. I'm in my fifth week of the diet and it definitely works. I knew I would eventually see results but I always thought it would take longer. I haven't had anything with sugar and my diet is basically 70% raw.

I don't consume any dairy products and the only meat I eat are sardines and salmon. Even though I have a lean athletic build, I always ate a lot throughout the day and wasn't eating the right things and continued to do so because I never put on any weight from it.

I used to eat potatoes, white rice a LOT of bread and basically LARGE portions of everything I shouldn't eat. lol. I'm laughing at it now because I knew it would eventually catch up to me somehow. I'm pretty sure that contributed greatly to my problems.

The spots around my hairline are getting darker and filling in. But anyway I have a few questions....I like to eat Chipotle and I was trying to see how you feel about the corn they serve as well as how often one should eat brown rice since it's pretty much on the borderline when it comes to low glycemic and medium glycemic foods. Btw, I'm 25 so that might be part of the reason for my quick results.

Thank you
My Hairline Grew And My Entire Hair Became Thicker
by Rodolfo
(Manila, Phillipines)
Hi. My name is Rod, 27 from the Phillipines. I first started to notice hair loss just last year. My hairline receded and my hair became very thin. When I looked at my head in the mirror, I could see my scalp already.

I tried to look for a natural solution for hair loss since I didn't have money yet to undergo hair transplant. Then one day I viewed this site and decided to follow the no-meat diet. I started to eat lots of veggies, especially the dark green leafy ones. My only source of protein are fish and eggs.

And after a month, I noticed hair growing, first in my hairline. I also noticed my hair becoming thicker, and I don't see my scalp any more whenever I look into the mirror.

I'm on my second a month, and if this continues, I'm pretty sure my hair will have grown back before the year ends.

I just wanna say thank you to the people behind this website, especially Sheree. Sorry for my bad English by the way. Again thank you and continue to spread this valuable information.
Right Diet Makes the Right Hair

(USA)
10 months ahead now and my hair is thicker and healthier now primarily because of my diet. It's still not perfect or the way i want it to be, but I'm going to continue until it does become so.

I'm quite optimistic and believe my hair will be the way it was before in a couple of months if i stick to the diet -- probably by the end of the year. You ought to stick to yours and eliminate the unnecessary sugars and gluten if you really want your hair back that badly.

Sticking to the right foods is a hard grind but it's worth it. It takes a lot of discipline to not go astray from your diet, but you've got to work at being consistent

As a 25 y/o male, I noticed the thinning in my hair and a great deal of hair loss on top of my head nearly 10 months ago so I had to do something quite systematically to change it or I'd be bald in a couple years.


All the best,

BC
Sathi's Hair Regrowth Pictures After Four Weeks
by Sathi
(GB)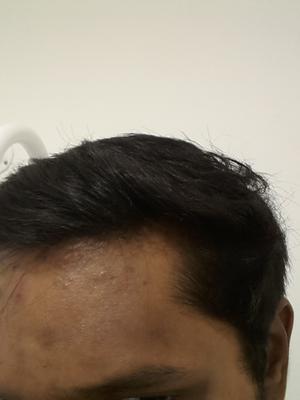 Left side
Hi Shree,

I am attaching my pics after 4 weeks of your advice. I mentioned you in one of my earlier post that I have very small invisible fine hairs(not in black color) on my sides which it is not sure new growth or not. But I can see it with light in sideways looks dense fine golden hairs. I can't feel like hair when I touch it, only way to feel is to pull it with my nail tips.

Also the fine hairs are more on my right side compared to my left, but no fine hairs in middle (above forehead).

Since 2 years, my hair is thinning like anything. My hair is very soft now and my scalp is visible and started to get few Grey hairs. Feeling less hair in hairline and crown area.

I think, am suffering from androgeneic alopecia, isn't?

My raw salad in grated form usually consists of

Red Cabbage
Green Cabbage
Red Bell pepper
Carrots
pok choi
Spinach
Cherry tomatoes,
Cucumber
Kale
Romaine lettuce

Supplements daily

Fo-ti. – 1 capsule
Stinging Nettle – 1 capsule
Biotin – 1 capsule
Vitamin B complex – – 1 capsule
MSM powder – 3g
Fish oil – ultra codn + omega
aleo vera juice



Breakfast:
Old fashioned oats uncooked with soya milk, pumpkin seeds and few dry dates for sweetness.

Lunch With salad
Brown rice or quiona with either any beans or legumes.

Dinner with salad:
Like pancake made from brown rice, coconut and three different types of lentils soaked overnight and blended to a paste.

I workout 4 to 5 days in a week and taking natural hemp protein powder as my protein supplement. What do you think about hemp protein powder?


Any comments or corrections please?

Thanks.
I Have Hair Regrowth
by Fatih
(Turkey)
Hi Sheree. Sorry for my bad English. I am 19 years old. My name is Fatih. I am from Turkey. About 6 months ago I met with your page, and since that day, I'm following diet. I had been because of my hair loss and seborrheic dermatitis.

This diet largely got rid of seborrheic dermatitis. This process was very stressed, but I survived. I know that my hair loss gene is in future. To avoid it, this diet I began to practice.

After doing this diet then the front hairline hair began to emerge. I look at my photos from last year. The hair in front of it, then my hairline.

I wonder if this diet, my hair is taking the kids to the hairline.

I'm grateful and I love you.

Greetings from Turkey. Sorry for my bad English. I hope you understand what I wrote.
Hair Loss is Curable!
by Yuvraj
(India)
Sheree thanks for this very magnificent site. Your anti sugar diet and low glycemic diet are major weapons in reversing hair loss. I followed your diet and my new baby hairs are coming everywhere. Sheree you are a messiah :).

Sheree, i want to ask that i belong to India and rice is one of the constituents of our diet. I want to ask that i can take white rice once a week and some sugar(1 teaspoon of sugar)along with tea every day or this will spike blood sugar?

One thing more is that i have diffuse thinning all around and the hairline is intact. Can i get all my hair back?? I'm 20 years old.

The health and diet information at The Healthy Diet Paradise has not been evaluated by the Food and Drug Administration, and is for basic information purposes only. If you have any medical issues or concerns, please contact your health care provider.
© Copyright 2011 - 2020





Sheree Gilkey is a participant in the Amazon Services LLC Associates Program, an affiliate advertising program designed to provide a means for sites to earn advertising fees by advertising and linking to amazon.com