Brian's Before Detailed Pictures From July 2013
by Brian
(Canada)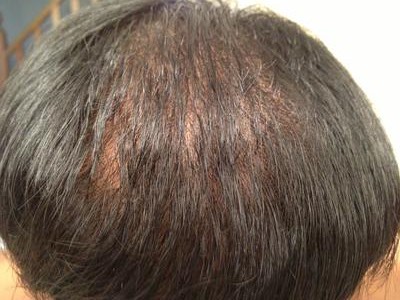 July 23rd 2013
This post will show the photos from July 23rd 2013.


I just wanted to provide the detailed pictures of when I started to illustrate more clearly how changing my relationship to food has affected my hair. The difference while on this diet is quite dramatic regarding the amount of hair and overall quality of the strands. My hair is much thicker now and so much more of it and each strand is much stronger I believe as I hardly ever shed hairs. I only wish I took a better aerial photo of my crown or scalp when I started but these photos will suffice. Enjoy everyone.
Brian
Before and After Hair Regrowth Pictures: Progress After 3 1/2 Months!
by Brian
(Canada)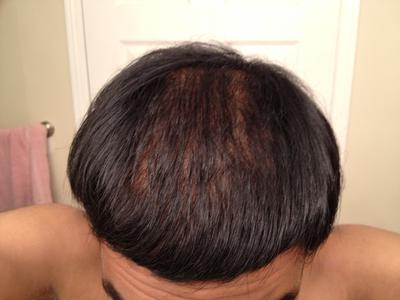 Before Picture :Taken July 28, 2013
Good news, I just wanted to update everyone with my results so far after being 100% on this hair restoration diet. Progress is slow, but the quality of my hair has significantly improved.

I know, I still have a long way to go but i feel i need to make a record of them.

I started officially July 28th and have pics of the before and after (today), so far.


I've recently incorporated some new swanson supplements into my diet: fo ti, hair, skin and nails, and stinging nettle in addition to my niacin and biotin supplements. I hope these do me well.

I generally eat the same thing everyday:

Breakfast: eggs, bacon, soy milk, carrots, green tea
lunch: roast chicken, salad, water
snack: almonds, some fruit
dinner: fish, bowl of spinach, green tea

I'm pretty happy so far but i just want to be able to wear my hair out without needing to wear a hat.

I'll admit I don't have the confidence yet to wear my hair out but I can see imagine wearing my hair as it is during the summer time!

Its a silly dream of mine but a dream nonetheless.
Brian's 10 Month Update With Detailed Pictures
by Brian
(Canada)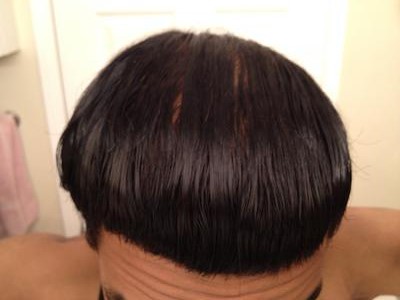 June 2, 2014 (front view)
Hey everyone,

I want to submit my 10 month update of my hair progress on this diet. The pictures will show that my hair isn't back to its normal state but there has been significant improvement since my last submission. On a separate comment I'll include more detailed pictures of the beginning of my journey, however this comment will only show the newer ones.

Looking and comparing the pictures gives me a really good feeling that I've come this far without any real slip ups. I'm planning on continuing until I've reached my goal. It really doesn't seem so hard any more.

Yet when i started, I didn't know if I could do this. Especially, saying no to the processed foods that i had grown to love. However, overtime its become very easy to execute this everyday struggle or battle-- that is refusing bad foods and people's kind offerings. I also think saying no has indirectly empowered me and given me more self-control over my life. Another plus to doing this diet.

The foods that I eat daily has been slightly changed. I'm a student so I've had to make alterations to budgeting with how I eat cause I really can't afford fancy fish or jumbo chickens all the time. I also like to spend as little time as possible cooking and eating because I prefer to maximize my time on other things. Here is what I eat for those of you who are curious:

Breakfast-- 3 boiled eggs, unsweetened soy milk, big bowl of mixed greens or spinach or kale, 3 tablespoons of peanut butter, and green tea

Lunch (usually varies)-- If I'm out, I'll eat a chicken/fish plate with lots of green vegetables and tomatoes. If I'm at home I'll at home, I'll eat sardines, big bowl of mixed vegetables, 3 tablespoons of peanut butter, and green tea

Dinner-- Bowl of beans, usually chick peas or lentils, big bowl of mixed vegetables, 3 tablespoons of peanut butter, and green tea

On the weekend I bake lots of chicken and eat it with large bunches of raw kale.

I still take vitamins. 2 capsule's of Swanson's hair, skin and nails daily and a 10,000 mg pill of biotin by Natrol. Some days I take a vitamin D soft gel of 5000 IU's but that's on and off.

I've gotten more aggressive with this diet these past couple of months and it makes me laugh that I'm determined to do what has traditionally said to be impossible. Most my money goes into buying vegetables and eating them and I imagine each bite is a slight prod and poke to that idea. Tease me at your will about this, I don't mind.

My hair has been growing back far more quickly, I've noticed recently, and I'm estimating that I will be able to wear my hair out without feeling ashamed within the next 3-4 months. Full regrowth is impossible to really measure but I'm guessing around 8 months for me.

If eight months comes around and I still haven't gotten it all back, I don't think I'll mind. By then, most my bald areas will be covered up by new hair I believe.

Brian

Brian's 1 year update /w pics
by Brian
(Canada)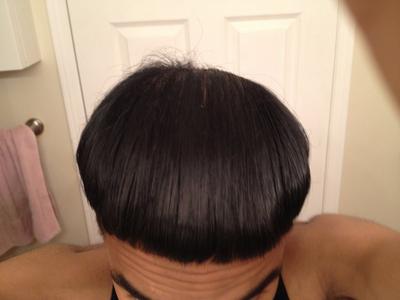 Hey everyone,

I took these photos a couple days back and have delayed in posting them because I've been busy with school. Summer classes have been taking up all my time. I apologize for not posting these earlier.

So here are the results of being on this diet for 1 year. Things have progressed and continued to get better. Still getting new regrowth all over, coming in a gradual way. The quality is so nice. This whole process is still very exciting to me.

I haven't made any changes at all to my diet. I'm still eating the same foods i posted in my 10-month update, except i'm eating more kale now because I really enjoy it. I've grown used to its flavour.

My hair is probably 40-50% all grown back, truthfully. The photos are somewhat deceptive because it looks like its almost fully grown back but its not. There is, in fact, enough hair covering the top but there are still areas that I do no have hair. Its going to take me another 6-10 months or more for it to grow back. I'm not worried at all though cause i've got lots of time. I'll also post photos when that time comes around.

I haven't worn my hair out yet but I will soon. I think i'm going to wait for it to thicken a bit on the top before I wear it out. I'll be most confident then.

P.s.
I've also fixed my hair sticking up or frizzing problem on my scalp area, I had a while back: I've change my shampoo that I was using to a lower PH level one and its reduce it significantly. I was using an added moisture one and that was causing the problem to my scalp problem. I've bought this silicone-free Tresemme shampoo and conditioner for like 5$ and its been working amazing. Anyway, I highly recommend it for people that have this problem or buying a similar brand with a low ph-level and it being silicone free.





The health and diet information at The Healthy Diet Paradise has not been evaluated by the Food and Drug Administration, and is for basic information purposes only. If you have any medical issues or concerns, please contact your health care provider.
© Copyright 2011 - 2020





Sheree Gilkey is a participant in the Amazon Services LLC Associates Program, an affiliate advertising program designed to provide a means for sites to earn advertising fees by advertising and linking to amazon.com