Our Hair Growth Treatment Turns Off the Hair Loss Gene



Our exceptional hair growth treatment program is a very powerful and unique dietary strategy.  This method teaches you step by step how to permanently restore your hair.  With the precision of a skilled surgeon, you will be taught how to remove each and every offending food that causes hair loss.

This superior e-mail service is provided as a compressed mini course on the hair loss diet.  This one-on-one mini course will save you months of time, because we will direct you to the exact individualized information you need for your unique situation. 

Watch Introduction Video!


How Does This Hair Growth Treatment Work?


Hair growth is a very complicated physiological process.  There are thousands of nutritional exchanges in your system that are necessary to re-grow your hair. 


The hair loss diet rewires the inner workings of your body, and stops hair loss from the inside out. The hair loss diet works by altering the genetic code and/or genetic information through the science of gene expression called nutrigenomics.  Nutrigenomics is the science of food/gene language and/or therapy. 

In other words, we're manipulating your genetic expression through a healthy diet.  So if you have genetic or hereditary hair loss, it doesn't matter.  Most of us have the hair loss gene.    


Click here to learn more about gene expression, nutrigenomics, and diet.

When you eat, there are trillions of exchanges in your body that take place. Food acts as a conductor that works intelligently within your system.  Food  controls every aspect of your body.  Food talks and communicates with your genes.  You will learn which genes are switched on by which foods. 

Our hair loss diet is very strict, and it's not for everybody.  But for those who have experienced the thrill of hair re-growth, ask them if they're concerned about how strict it is. 

Hair loss reversal is a beautiful thing to watch.  The hair loss diet regrowth results are so astonishing, sometimes I have to pinch myself because I think I'm dreaming.  Our visitors are so happy about their hair regrowth, and they sleep really well because they don't worry about  hair loss anymore. 

Read Brian's Story and view his before and after pictures.

Read DeeDee's Story Here.  DeeDee struggled with hair loss for eight years.  After six months of being on the hair loss diet, her hair is growing back.  Her story will inspire and amaze you.

Read Noah's story of hair recovery.  He's been on the diet for just over three months, and new hair is sprouting!

From a Private Coaching Client

I was on the diet for about 2 weeks when I decided to sign up for coaching. I figured after all the money I have spent on products and supplements, it would be well worth it to sign up for coaching and get actual knowledge. I have to say, I was really impressed. I started out with just a few questions, but then thought of more questions, all of which Sheree answered. I tweaked my diet just a bit. She then looked at my seven-day meal journal and pronounced it "perfect." :) 

I honestly wasn't expecting results very early, but I have definitely noticed a decrease in shedding and I am fairly certain that there are new hairs growing that weren't there before. (Sometimes, I don't want to believe my eyes, because it seems so soon. But there they are - a lot of little, tiny hairs.)

Read full page here!

Beware: The diet is unforgiving and strict.  If you go off of it for a day or two, you can quickly lose ground and have to start over. We had a visitor who learned how and why this diet is for life.  Click here to read his story!


Read this exciting regrowth story from Joni.

Read lots of success stories from our visitors


Watch hair regrowth congratulations video


The Hair Loss Diet is For Life!
You will carry this information for life.  Our hair loss diet hands you the controls so that you will never be taken advantage of again by the mainstream media.  This is done through education.


I love this science, and I have a deep reverence for the process. When our visitors are successful in reversing their hair loss, I am very deeply moved. 

Each case is unique.  You are treated not only on a dietary level, but on a spiritual and emotional plane as well. As we all know, hair loss hurts.  We may laugh at our imperfections in public, but in the quiet, dark night, hair loss wounds our souls.  You are treated with great respect, honor and dignity.



Can You Guarantee That This Hair Growth Treatment Will Work?


I cannot guarantee that the diet will work.  We are promoting a concept, not a product.  I can, however, guarantee that the information that I provide is true and correct.  If you follow the hair growth treatment guidelines, I can absolutely guarantee that you are within the scope of the hair loss diet. 

Everybody will respond differently, and their response and speed of hair recovery may vary.  However, having said that, I believe the vast majority of people will see a positive response. This method is aggressive, and we're getting results.


The American diet is like a field full of landmines.  My job is to guide you through the landmines out to safety; left, right, straight ahead, stop.  The rest belongs to nature. 


How Long Does This Natural Hair Growth Treatment Take?


Some people have experienced hair re-growth within 10 to 21 days; however, this is very unusual.  Most people report back to me within six weeks to three months.  For younger males in their teens to 20s, the average time to start seeing regrowth is one to two months.  Females with advanced hair loss can take two to six months to start seeing hair re-growth.  We advise our participants to wait at least one year.


This Hair Growth Treatment Helps With Basic Hair Loss But…..
This nutritional hair growth treatment is for individuals who have lost their hair, but they're otherwise healthy.  Here are some examples of serious illnesses causing hair loss:
Allergies

Anorexia

Body dysmorphic disorder


Bulimia

Cancer

Crohn's Disease

Chronic life threatening stress (death or disaster)

Frontal fibrosing alopecia

Inflammatory bowel disorders (IBD)

Scalp fungal conditions

Tumors



I am a self-trained nutritionist
Our hair growth treatment program deals strictly with general, diet-related hair loss.  If you have any of the conditions listed above, or other serious conditions, please contact your physician or healthcare professional. 

We've Had Tremendous Success With Androgenic Alopecia


Our hair loss diet program has been extremely successful with androgenic alopecia in men and women.  Androgenic alopecia is the most common type of hair loss.  


Interesting Statistic:  Did you know that hair loss accounts for 99 percent of all inquiries made on The Healthy Diet Paradise?
Self-Trained Nutritionist
My name is Sheree, and I work as a self-trained hair loss diet specialist. When I first built The Healthy Diet Paradise,  I wanted to prove to women and men all over the world how easy it is to lose weight.  I never intended to provide any information for hair loss.  The subject of hair loss brought back too many painful memories for me.  
But then I thought about all of the doctors and scientists who cracked the hair loss code for me.  I felt that it would be unfair and inhumane for me to withhold such important information.  So while I was in the process of cracking the obesity code, I ended up cracking the hair loss code  --  quite by accident.

I am certain, without any shadow of a doubt, that I was born to do this work.  It is my greatest dream come true.  I am self-trained and developed this natural hair growth treatment through experience,  education, and a commitment to this wonderful, natural science.
Private hair loss diet coaching has been discontinued.  We've made a transition to video coaching.  
The Hair Loss Diet Interactive Video Coach is available for a fraction of the cost of private coaching. Please scroll down this page to order, or click here to learn more about the Video Coach.



Hair Loss Diet Interactive Video Coach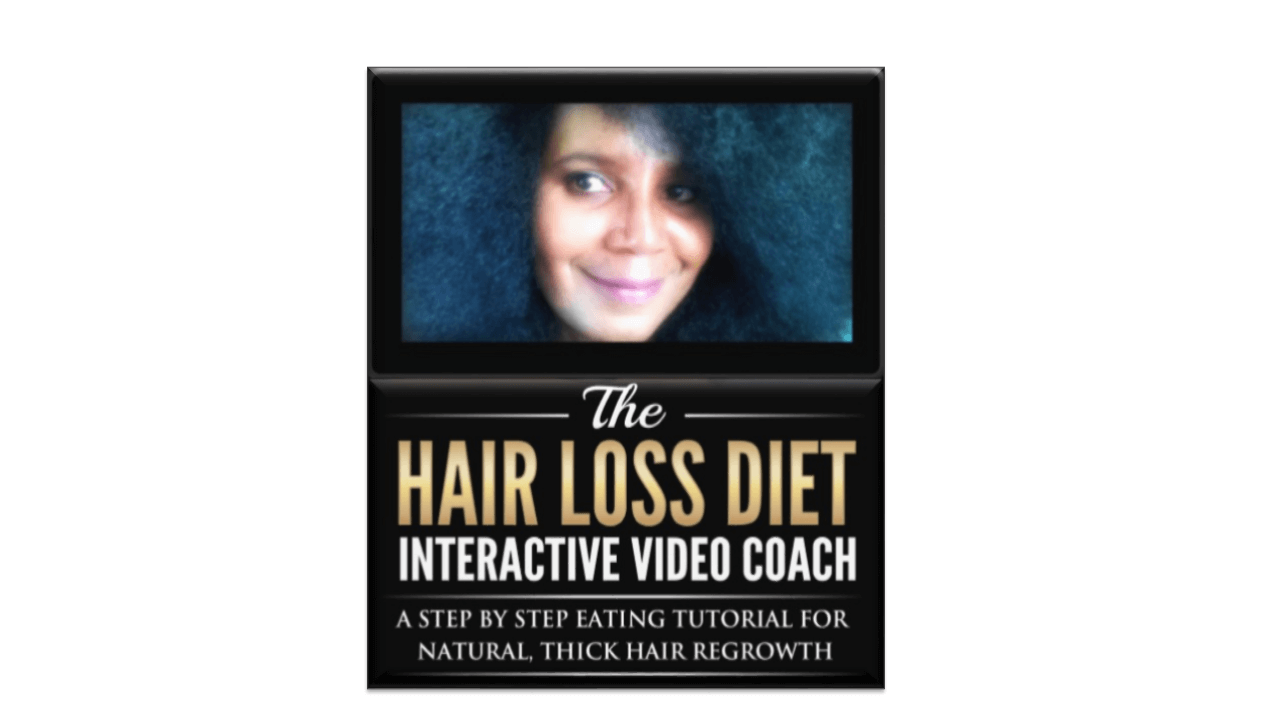 $29.99



Show off Your Results!

You can submit before and after photographs showing your hair loss diet reversal and your unique story.  This can be done in the hair growth forum.  I recommend to everyone that they take a picture right when they start the diet.  They are always shocked at the difference.  With your permission, we will post your before and after pictures.
Do You Have Questions?
The Hair Loss Diet Blueprint and Navigation Guide answers over 40 specific questions in detail, and teaches hair loss diet theory.  

The Hair Loss Diet Quick-List is a list every food type to avoid.  It also lists foods to eat that are safe for your hair.  

Click here to purchase these important ebooks.
Return to the Top of This Page
The health and diet information at The Healthy Diet Paradise has not been evaluated by the Food and Drug Administration, and is for basic information purposes only. If you have any medical issues or concerns, please contact your health care provider.
© Copyright 2011 - 2020





Sheree Gilkey is a participant in the Amazon Services LLC Associates Program, an affiliate advertising program designed to provide a means for sites to earn advertising fees by advertising and linking to amazon.com