Golden Brown Gluten Free Banana Bread Recipe


This gluten free banana bread recipe gets lots of feedback.  Most of our visitors love the recipe just the way it is.   Others modify it in some way.  You may experiment with any gluten-free flour that you like.
At The Healthy Diet Paradise, our dessert recipes have two basic requirements.  The first requirement is that they have to be low glycemic.  The second basic requirement is the recipes have to be gluten free.  Oh, and I forgot the most important one.  They have to pass the taste test!  Even our kids beg for this.  
We use half buckwheat flour and half garbanzo bean flour for a denser bread texture, which comes out to 3/4.  Buckwheat flour gives this recipe a fantastic texture.  You can use any gluten-free flour that you wish.  The only flour that cannot be used is coconut flour.

You will be hooked.  This is by far my favorite recipe.  I've been known to make this and eat it by myself.  Please don't tell anyone I said that.   

This recipe is safe for our hair loss visitors, and for our visitors following a gluten-free diet.
Gluten Free Banana Bread Ingredients List:
3/4 cup of Xylitol sweetener

3 ripe bananas
1/2 cup butter, softened
2 large eggs
3/4 cups buckwheat flour
3/4 garbanzo bean flour

1/4 tsp salt
1/2 tsp baking soda
1/2 lemon (squeezed)
1 teaspoon cinnamon
1 teaspoon vanilla extract
1 cup of crushed walnuts

1/4 cup of milk

2 tbs ground flax seed (optional)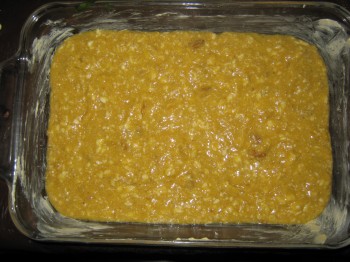 Directions For Gluten Free Banana Bread Recipe:

Preheat oven to 350 degrees. Smash the bananas with the butter until smooth.  Then add eggs, salt, baking soda, lemon, cinnamon, vanilla and milk. Then add flour and walnuts last.   Stir until creamy. Consistency should be a bit thick.

Pour the batter into a rectangular baking dish.  Deep dish is not recommended because it takes a lot longer to bake.

Tip:  Take bits of natural butter and put them along the edges before you put the batter into the baking dish.  This makes the edges crunchy and adds a flavor boost like no other.

Bake at 350 for about 40 minutes. The sides should pull away when done. Baking times may vary. This recipe is very moist. 

This is one of the favorite recipes of our visitors, along with the gluten free zucchini bread.

Caution: It will be impossible to stop eating this gluten free banana bread recipe. This recipe is beyond delicious!


The health and diet information at The Healthy Diet Paradise has not been evaluated by the Food and Drug Administration, and is for basic information purposes only. If you have any medical issues or concerns, please contact your health care provider.
© Copyright 2011 - 2020





Sheree Gilkey is a participant in the Amazon Services LLC Associates Program, an affiliate advertising program designed to provide a means for sites to earn advertising fees by advertising and linking to amazon.com