How to Make Home Made
Sugar Free Ice Cream
The picture to the right is our home made sugar free ice cream. It's also gluten free, low glycemic and 100% natural.  It's comfort food that is safe, natural and unbelievably delicious. 
I'm going to show you step by step how to make this shockingly good vanilla ice cream.  You don't need a machine, and you don't need any special equipment. 

We're going to take you back to the olden days when ice cream was delicious and made at home with no ghost additives that processed foods have. 
This sugar free ice cream recipe only has four ingredients, vanilla, heavy cream, xylitol and salt.  How easy is that?  And the taste is simply surreal. 

It was Christmastime  a while ago, and we left to go to our aunt's house to eat.  I decided to cheat for the first time in five years.  I actually had a spoon full of Breyers vanilla ice cream.  I couldn't believe the flavor.  I couldn't stop talking about this experience of eating regular ice cream all the way home.

I vowed then and there that I would figure out a way to make this ice cream to fit the parameters of The Healthy Diet Paradise.  We are a no sugar website, and it's a huge challenge to live this way.  Most of the time, we go without.  Slowly but surely, we're learning how to adapt and amend our diet to create delicious desserts like this.

Step by Step Video Instructions



Directions for Sugar Free Ice Cream


With Easy Step by Step Instructions: 



You Will Need:

2 16 oz containers of heavy cream
Six egg yolks
1/4 tsp salt
2 tsp vanilla
Slightly less than 1 cup of xylitol
Step 1

In a  bowl, separate six egg yolks.  Break the shell and allow the white to fall out of the shell.   Completely stir the yolks with a whisk. 
Later, you will add the heavy cream mixture to the eggs.  If you don't stir it well, the egg mixture will cook in chunks, and you'll have scrambled eggs in your ice cream. 

These eggs are not raw.  The hot cream will liquify and cook the eggs when they're stirred together.

Here's a really cool video that shows you how to easily separate egg yolks from egg whites.


Tip:  Save the egg whites for breakfast the next morning.  If you scramble the eggs and add lots of cheese, you cannot tell that they don't contain yolks. 


Eggs are a super food.  Learn more about eggs here.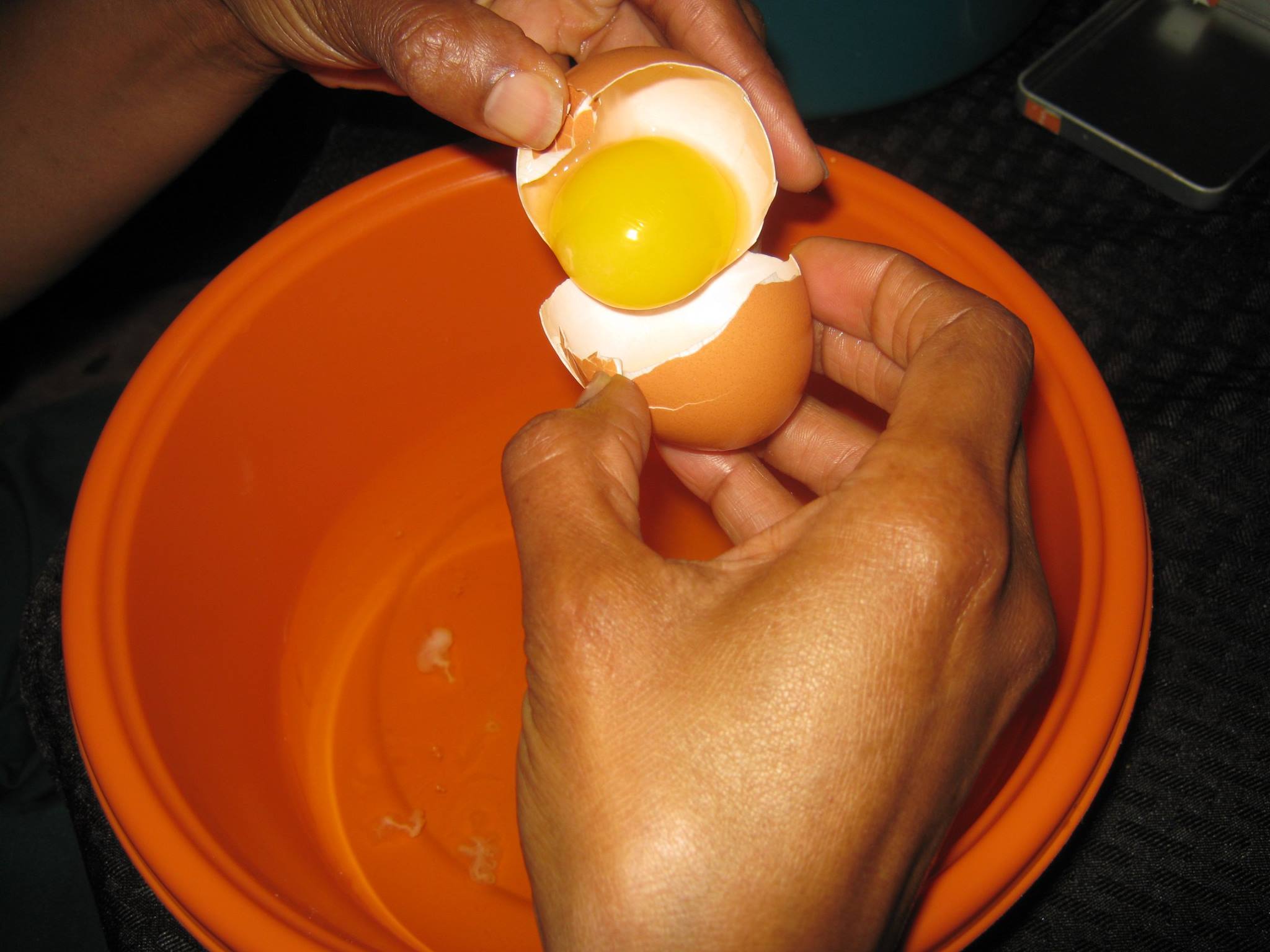 We use Trader Joe's Heavy Cream.  See Picture Below.

Heavy cream is very heavy in fat.  Fat provides powerful protection against diabetes, brain disorders and bone disease. 

Click the link below to learn more about the health benefits of fat.

More on the benefits of fat here.

The picture below is showing vanilla, salt and xylitol.  Notice how the xylitol is slightly less than a cup.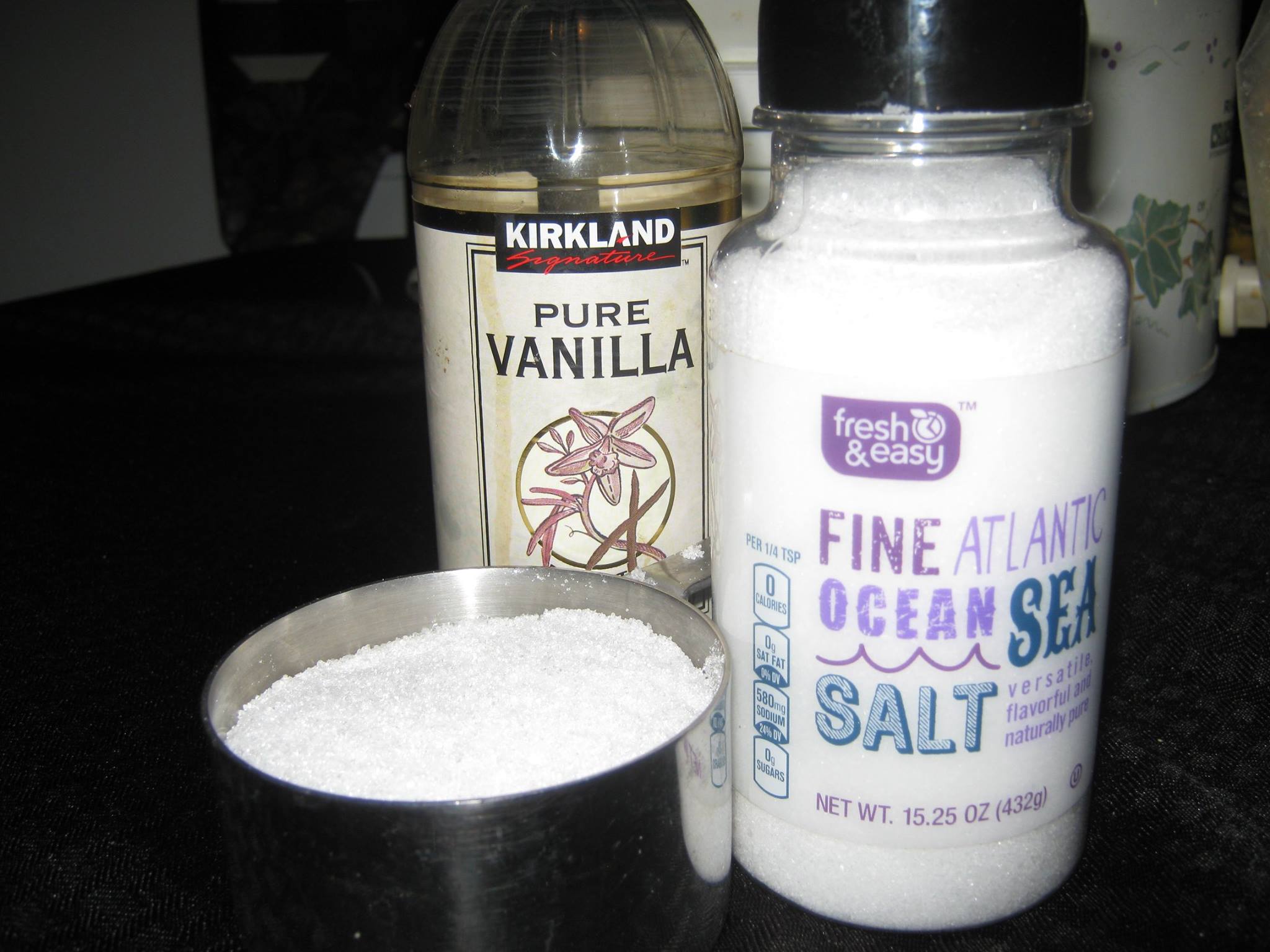 Step 2: 

Pour two 16 oz bottles of heavy cream into a pot.  Set the flame on medium/low.  When the cream begins to boil, reduce the heat and stir gently with a plastic spoon for about five minutes.  Watch the boiling cream very carefully.  The cream can suddenly rise and spill over onto the stove.


Below is what the sugar free ice cream looks before anything is added and before it's heated.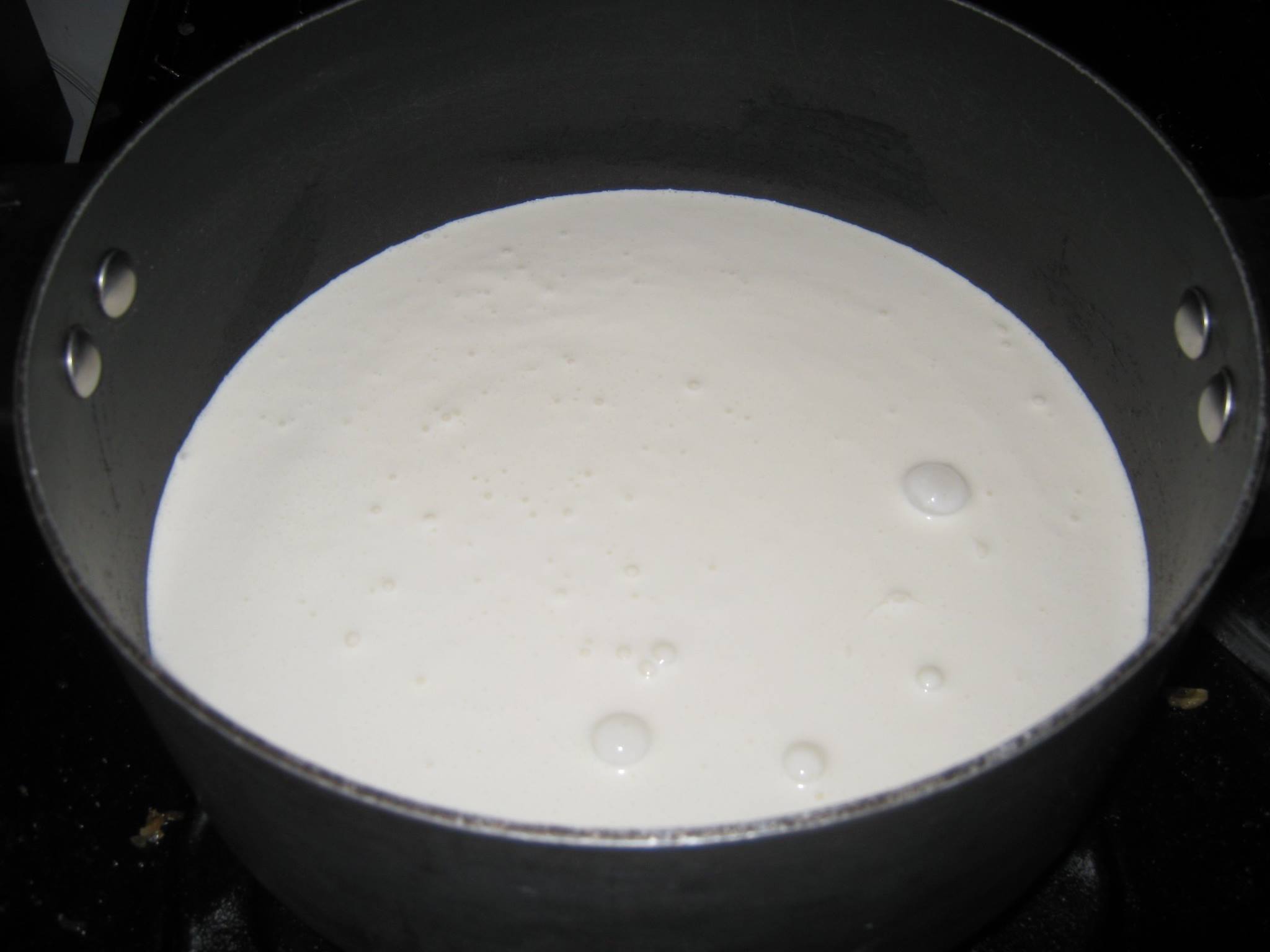 Step 3

After the mixture has been boiling for about five minutes, add two teaspoons of vanilla, slightly less than one cup of xylitol, and 1/4 tsp of salt.  Gently stir until everything is mixed in. 

Note:  Xylitol is not absorbed by your system.  The fat in the milk acts as a binding agent which prevents the xylitol from going through your system too quickly. 

Click here to learn more about xylitol sweetener.




The picture below is how the ice cream mixture looks after it's heated for five to six minutes.  Notice in the picture below that the vanilla slightly changes this sugar free ice cream to a very light beige.

Step 4

After the heavy cream, xylitol, vanilla and salt have been boiling for five minutes, pour it into the whisked eggs a little bit at a time.
So you're going to pour a little bit of cream into the eggs and stir.  Then pour a little bit more and then stir.  You want to divide the cream mixture into the eggs four separate times.  This will ensure that the eggs don't cook in chunks.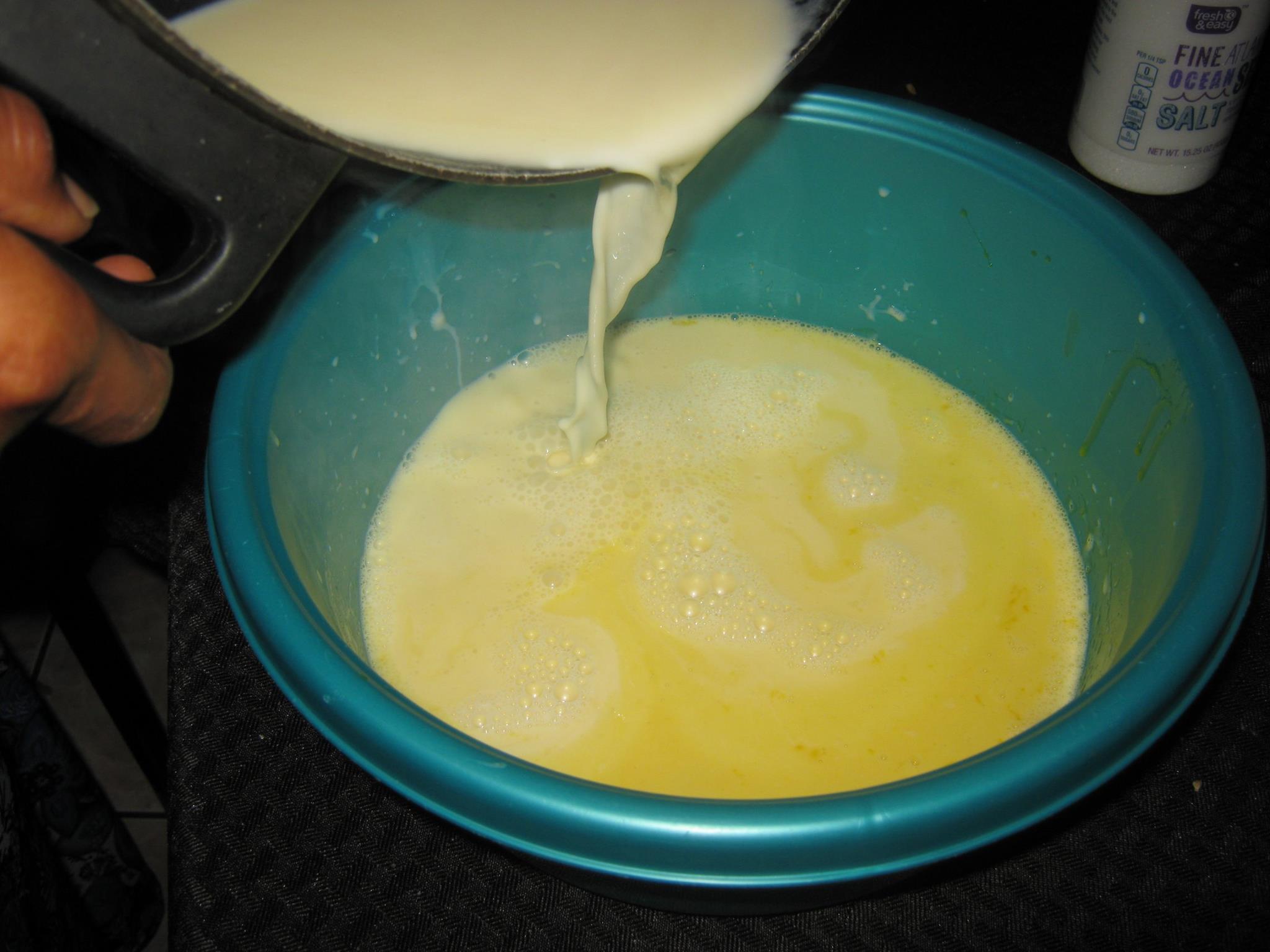 Stir the sugar free ice cream well, place it into a plastic container and secure the lid tightly

This ice cream does not need to be churned or stirred.  It's super rich, thick and decadent after it's frozen. The mixture may appear a little watery after you boil it.  This is very normal.  When the ice cream gels later on, it will look exactly like store bought ice cream.
The picture below is how the ice cream looks after it's boiled and put into a plastic container.  
Step 5

Put the ice cream in the back of the freezer towards the fan so that it freezes faster.  If you put it in the door, or far away from the fan, it may not freeze the way you want it to.

24 hours later:  Look at the rich, succulent texture of this home-made sugar free ice cream.  Your kids will love it, your family will love it, and you will love it.  The texture is creamy and luscious.  You will never buy store bought ice cream again after you learn to do it yourself.  It's so easy, anyone can do it.


Look at that.  You know you want some!


To make chocolate ice cream, microwave 1/2 bakers chocolate bar and stir it into the ice cream while it's boiling.   You do not need to adjust the amount of xylitol you're using.

For chocolate ice cream, use slightly less than 1 cup of xylitol.  The rest of the instructions are identical. 

For chocolate ice cream, you can add roasted almonds and pistachios before freezing.



The health and diet information at The Healthy Diet Paradise has not been evaluated by the Food and Drug Administration, and is for basic information purposes only. If you have any medical issues or concerns, please contact your health care provider.
© Copyright 2011 - 2020





Sheree Gilkey is a participant in the Amazon Services LLC Associates Program, an affiliate advertising program designed to provide a means for sites to earn advertising fees by advertising and linking to amazon.com