Super Easy Sweet Potato
Hash Browns Recipe



I got this unique sweet potato hash browns recipe from one of my hair re-growth coaching clients.  She developed this amazing looking sweet potato dish on her own, and sent me these beautiful pictures. 

Our hair loss diet requires low glycemic foods.  Sweet potatoes have a much lower GI than white potatoes, and she crafted this delicious side dish to suit our hair loss diet guidelines.

This recipe is super easy, and only takes a few minutes to prepare.  You can use it with eggs and fruit in the morning, or as a side dish for dinner.
Directions for Sweet Potato Hash Browns: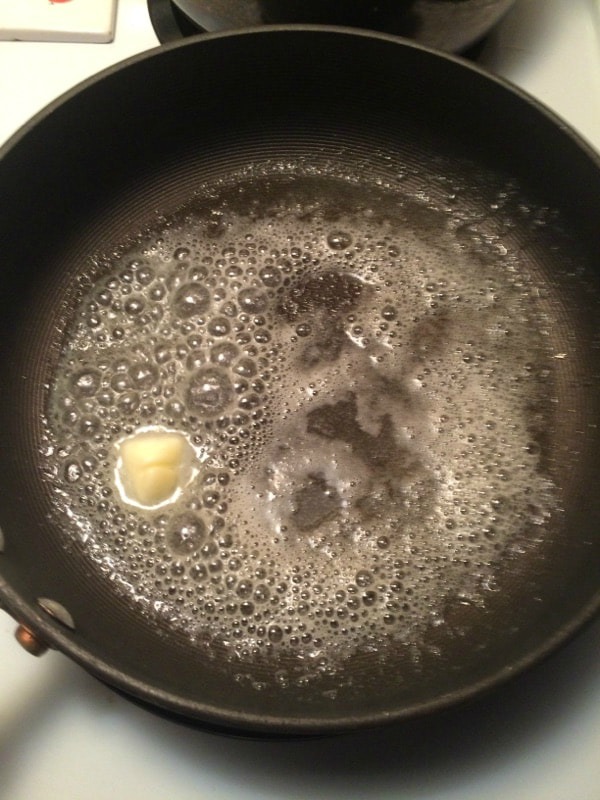 First heat one or two teaspoons of butter in a skillet.   You can turn it off after melting the butter, because you're going to be shredding your sweet potatoes and onions.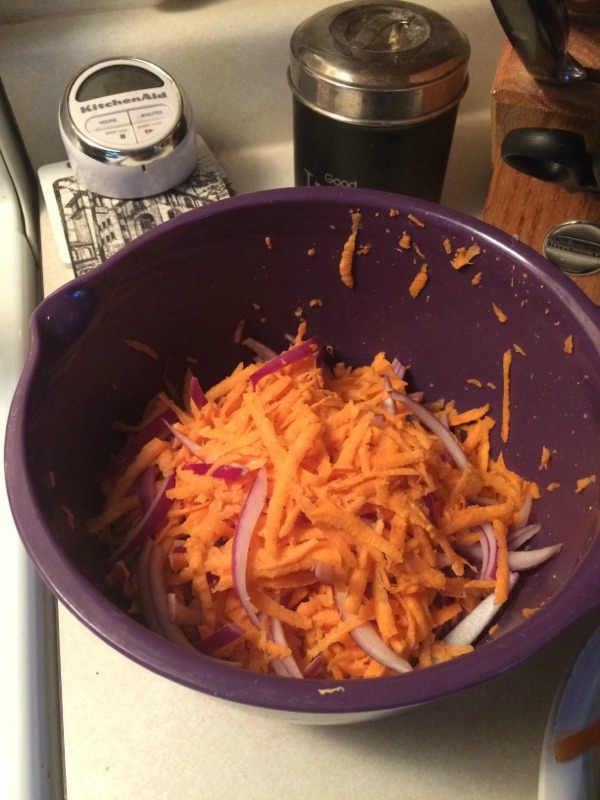 Please note that white potato hash browns need to have the water squeezed out of them for crispy hash browns.  Sweet potatoes do not have to be squeezed to come out crispy!

Directions for Sweet Potato Hash Browns


Shred one medium sweet potato with a hand-held shredder or a food processor. 


Slice 1/4 cup of red onions.  


You may add salt and pepper if you wish, or experiment with your own tastes for the seasonings.  


After the butter is pre-heated, put the onion and shredded sweet potato mixture in the pan in mound forms, and allow the mixture to simmer until the onions start to caramelize (become transparent.)


Allow a few minutes for the sweet potato mixture to get a little crispy before turning them over.


Repeat on the other side.



This is how they look after cooking.



A close up of these incredibly delicious hash browns!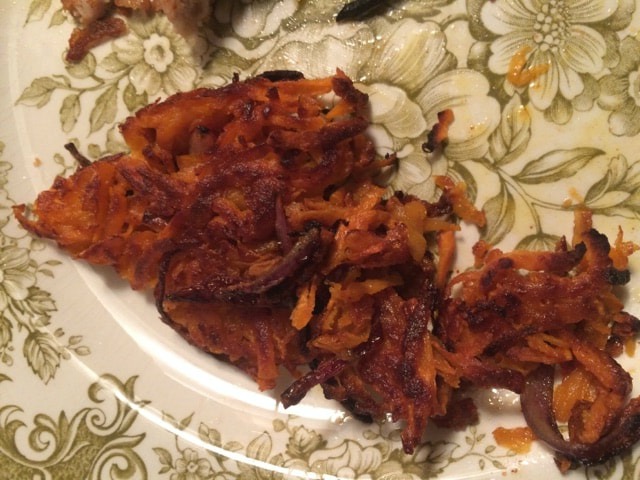 More Tips:


This hash browns recipe really keeps well in the refrigerator.  Put it in an air tight container and it will keep for a few days.


Other than butter, the potato and onion are the only ingredients that are used.  However, you may add salt and pepper or any seasonings to suit your preferences.


If you're a sweet potato fan, you will love this dish! No additional sweetener needed.
Additional Resources


The Healthy Diet Paradise is a scientific gluten free, sugar free website.

These sweet potato recipe fits our gluten free guidelines.

This recipe also follows our hair loss diet guidelines.

Please click here for a list of healthy recipes that have passed our strict standards.

Click here to view our hair loss diet menu!


Advertisement
The health and diet information at The Healthy Diet Paradise has not been evaluated by the Food and Drug Administration, and is for basic information purposes only. If you have any medical issues or concerns, please contact your health care provider.
© Copyright 2011 - 2020





Sheree Gilkey is a participant in the Amazon Services LLC Associates Program, an affiliate advertising program designed to provide a means for sites to earn advertising fees by advertising and linking to amazon.com