Super Delicious
Gluten Free Pancakes Recipe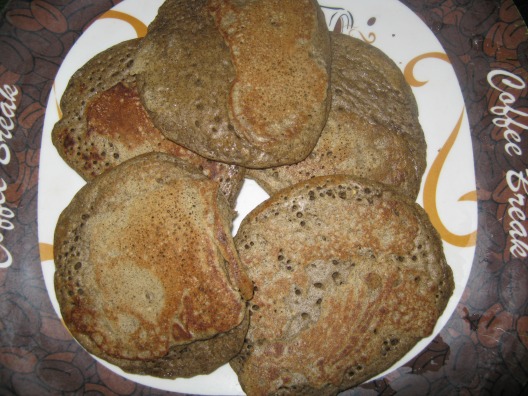 This gluten free pancakes recipe is our favorite weekend breakfast.  I use this recipe for our leisure weekend breakfast because they take longer to prepare than say yogurt or eggs. 

I cannot possibly describe in words how unique and unbelievable these pancakes are.  There's something about eating these that makes you realize you're eating real food.  You're getting eggs, milk, olive oil, a complete protein, and lots of luscious flavors and textures that will stop hunger long into the afternoon. 

That does not happen with wheat flour pancakes.  Wheat flour spikes your blood sugar and causes blood sugar crashes which increases hunger and weight gain.  And never mind the problem with wheat allergies.  This pancake recipe is 100% gluten free!

This batter forms deliciously succulent pancakes that are crunchy around the edges, and fluffy in the middle.  You can even get your kids to eat these! 
Buckwheat flour pancakes appear darker than traditional wheat flour.  They have a very unique flavor and are incredibly healthy and nutritious.  Since they are real food, they will fill you up and you won't be hungry for hours.  Save any leftover batter for the next day.

You can also check out our 7-day gluten-free breakfast menu.  It has ideas and links to complete recipes.

Please visit out gluten free menu page for more options

Gluten Free Pancakes Ingredients:

1/2 cup garbanzo bean flour (chickpea)

1/2 cup buckwheat flour
1 tbs coconut palm sugar (optional)

1/2 tsp baking soda

1 cup regular or nut milk

1 tablespoon olive oil for batter

1 egg

Extra olive oil for pan
1/2 tsp nutmeg

1/2 tsp cinnamon
1 tsp vanilla

1/16 tsp xanthan gum (dusting)

Directions for Healthy Gluten Free Pancakes

In a mixing bowl, combine the chickpea flour, buckwheat flour, coconut palm sugar, baking soda, milk, olive oil, cinnamon, nutmeg, vanilla, xanthan gum and eggs.  Stir well.


Preheat a skillet over medium/high heat.  Heat 2 tbs olive oil.  Drop the batter from a spoon to form your pancakes. It's okay if the pancakes soak up any extra olive oil.  The oil makes these pancakes taste incredible.

Cook your pancakes until small bubbles form on top.  Then carefully flip the pancakes over.  Repeat with the remaining batter.  If you notice the olive oil being soaked up by the pancakes, you can add more.
This recipe makes six to eight medium sized pancakes. 


Make your own blueberry compote syrup



For our hair loss visitors, you may also use 100% pure maple syrup for your cheat meal.

Tips:  Xanthan gum is optional.  When you're using the xanthan gum, be extremely careful to use an extremely tiny amount.  Just a little dusting of xanthan gum.  Xanthan gum is very slippery when it's wet.  If you use too much, the pancakes will come out flat.

You can tweak the amount of milk to change the consistency of the pancake batter.  Increasing the amount of milk will create thinner pancakes.

Look at these gorgeous piping hot gluten free pancakes!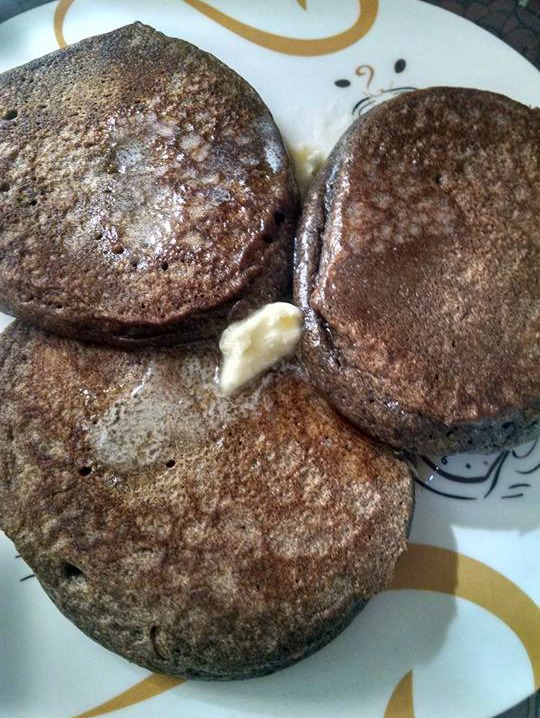 The health and diet information at The Healthy Diet Paradise has not been evaluated by the Food and Drug Administration, and is for basic information purposes only. If you have any medical issues or concerns, please contact your health care provider.
© Copyright 2011 - 2020





Sheree Gilkey is a participant in the Amazon Services LLC Associates Program, an affiliate advertising program designed to provide a means for sites to earn advertising fees by advertising and linking to amazon.com