I Can't Stop Crying Can't Eat Enough
by Mary
(USA)
Dear Sheree, You were kind enough to answer my questions about healthy fats as I need to gain weight from not eating while at the same time follow the diet plan.


You were very encouraging and gave me some very helpful information on gluten free fats.
I am such a mess, I wrote it down, however can't find what I did with it.
I had asked you about peanut butter and you said that was fine. You included some other good gluten free fats in your answer. I have looked for the page (in the forum) in which I had written and you had answered but it seems to be gone.
I am really struggling to eat, and keep my anxiety under control but am not doing so well with it. My extreme hair shedding which has been going on for 11 months has seemed to have gotten worse. I don't know if the anxiety and not eating is keeping it going or what it is.
I am sorry I am all over the place in writing. I feel very hopeless and am not functioning well. I am trying so hard to just feed my body correctly yet most days I have no appetite.
Before this shedding (hair loss) started I had no issues with hair fall and a full head of healthy hair.
I had lost a lot of weight two months prior to this starting. I was so anxious I couldn't eat. I also had an allergic reaction to a medication and two days later is when this started. I was told it would stop within three to six months. It has been 11 and the anxiety is worse, the shedding is out of control.
I guess I just need hope this will work for me too. If I can eat right and stop stressing. My hair loss didn't really hit the top of my head until the last couple months now it has a lot. Its now all over and I can see my scalp, all my parts are bigger, where before it was mostly just in the back and sides.
I am sorry this is so long. Thank you for all you do, and for starting this hair loss diet. I much appreciate all you do for others. I am not functioning and should mention before this even started I suffered from a body image disorder.
This is truly making me suicidal and I want to cope better and feel more positive. I can't stand to look at my head anymore or myself. I was handling it better up until the last couple months. I think the fact that it has gotten worse instead of better has kicked off more anxiety.
Thanks for any advice.
Will The Hair Loss Diet Work for Severe Hair Loss?
by Ally
(Atlanta, Georgia)
First of all, the website is awesome. It's great to come to especially when I need more information. I'd like to give a little information about me. Hopefully, I can get info and whatever other information possible.

I have severe hair loss. I can even feel my scalp. I have went to 2 dermatologists and one gynecologist. I should say that I am back to square one. All my results came back normal. Well, let me say according to them.

My hormones came back a bit elevated, but according to the dermatologist, it is not too much to cause hair loss. I also have to say that I have been diabetic (Type 2) since I was 22. I am 27 now. Between that time, I have never controlled my sugar. I'd rather be honest....lol

After turning 27, I started losing my hair. One of the dermatologists calls it androgenic alopecia. The other dermatologist calls it severe diffuse. I kinda think it's also severe diffuse. Well at this point, it is a size of nothing. Before, my hair was thick. I would break my hair pin.

I have spoke to my physician, dermatologists, and gynecologist about hair loss due to diabetes, because it is unbalanced sugar where the blood does not provide the nutrients that it should. My sugar has been between 275 and 350. I believe the sugar building up in my body for 5 years may have caused the body to cause hair loss because it is not controlled.

I know this is crazy, but what do you think? I know I am not crazy. I am not going to the doctor anymore. I want help knowing if this diet will work for me. Also, how long do you think it should for my hair to come back? Estimated of course. Also, the dermatologist told me about Rogaine. Do you think I should try it? Please Help! Long Detail..lol
Will This Work For Me?
by Mary
(USA)
10 months ago I had thick healthy hair that never shed. I would maybe lose 5 or so hairs when shampooing. Last June and July I had such anxiety I stopped eating. Anxious day to night. I lost 20 pounds in this time.

I then went on a medication that I had an allergic reaction to, got a rash and two days later my hair started pouring out of my head. It has not stopped and is now to the point I think it is very noticeable. It took awhile to affect the top of my head but now it is pretty bad there. I have been suicidal over this as I already have an existing severe anxiety disorder along with depression and a body image disorder.

I will not leave the house and can't even care for my family. The dermatologist I saw has me on iron and Vitamin D. Also said to start Rogaine to stop the shedding and help with regrowth. I have not started as I am terrified of shedding worse (the box says 10% of people will shed first). I am anxious day to night, can't eat, don't sleep, and I know this is not helping. I need some hope.
thyroid and pcos hair loss
by Simi
(New York)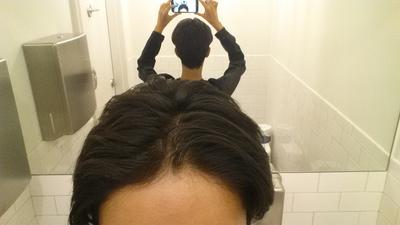 Sheree,
Here are some pics of my hair today. I have full confidence I hair will return to its former glory :)

-Simi
Hair Loss Since Hashimotos Thyroid Disease
by Simi
(New York)
Hi Sheree,

Thank you for providing us with this platform, I find this site so valuable for nutrition support and advice. It is truly wonderful to come here and see so many people working on their health and getting their hair back!

I was diagnosed with hypothyroid and hashimotos disease in 2009. Since then I have slowly been losing my hair ( pics to come) My hair is like baby hair, thin and fly away. I wear it short to disguise the thinning.

As well as thyroid deficiency (which is control with hormone replacement therapy) I also have PCOS. Awful acne and barely there periods.
To control the PCOS I have been on Yasmin (anti androgen birth control) since 2007.

I started the diet 2 weeks ago, so far so good. Still have some questions.

Will the birth control pills hinder my progress?

Also carbonated water (club soda), if I have this once a week is that really bad?

I've been checking gluten free products in the grocery store and found a pasta which is made from corn and quinoa and found Bobs Red Mill gluten free pizza mix, what are your thoughts on these if eaten once every 2 weeks?

I also use Guldens spicy brown mustard and hellmans light mayonnaise in chicken salad.

I am determined to commit to this, I want results!

Thank you so much Sheree

I look forward to hearing back from you

-Simi


My Hair Will Not Thicken Up!
by Mya
(US)
Hi Sheree, I have been losing my hair for the past five years and now my scalp is beginning to show. The derm said my ferritin was low at first, but since November, it has been within the appropriate range.

I have been on the healthy hair diet for a whole year but my thinning is getting much worse. I must be doing something wrong. I eat the same three meals throughout the week. A chicken bowl with brown rice (chipotle), a kale salad with grilled chicken, and salmon with spinach and brown rice (Cheesecake Factory).

I take borage oil, he shou wu, biotin, elemental iron, saw palmetto, and ashwaganda every day. I am a female in my 30s. My mom is losing her hair too but it didn't start until a few years after menopause. This is too early for me to go bald! Please help! I'm so depressed.
Would Like As Much of My Hair Back as Possible
by Helen
(Baltimore Maryland )
Does your diet work for older women? My edges and top of forehead are gone. What to do. I'm tired of wearing wigs and hats all the time. Please help.
I Love Tai Chi
by Ayanna
(Austin)
Hello. My hair has thinned to a great degree in the last 2 years. After watching your video, I cut sugar completely from my diet...again. That was about 3 weeks ago. I am diabetic and should stay away from sugar anyway but somehow I was really on a serious binge for awhile. I also stopped eating honey and I have switched to a low glycemic agave instead. I also use stevia with no additives. Is that good? I have already cut my insulin requirement in half.

I wrote you on your YouTube blog but didn't get an answer. I think perhaps I may have made an error of some kind.


I have purchased the Biotin and the folic acid and I will purchase the Skin, Nail & Hair vitamins tomorrow. I am taking very good care of my hair and I want any suggestions and guidance you can offer me.

Diet I know is the most important thing. You should know that I don't eat red meat or pork. Rarely chicken, but I do eat fish a couple times a week. Should I have more protein in my diet? It's too early to tell about my hair yet but I am optimistic.

Your hair is fabulous! You just look healthy & great! My nails reflect the condition of my hair as well. Thin & soft with ridges. I don't know what that means!One more question. I plan on going on the 10 day Master cleanse this month. I'm hoping it will help detox my system and alleviate my allergies. Any suggestions would be welcomed. Thanks so much for your help.
Blessings,
YaYa
Beginning My Journey

(Karen)
My name is Karen and I was wondering if there were any West Indians following this hair loss diet on here. I just bought the e-book and I haven't seen any mention of plantains or cooking oils. Does anyone know if plantains are a safe alternative to sweet potatoes or yams? It's been a staple my whole life and it helps me feel full. Also there are no mention of olive oil, canola oil or any other type of cooking oil in this book. Is it ok to cook with those? What about salt and pepper?

This diet is going to be quite a challenge but I'm grateful to have found this web site.
Low Iodine vs Snapbacks and Fitted Hats Hair Fall Out
by Maliek Young
(Philadelphia PA)
Can someone tell me what's going on with my hair .... about 10 years ago my edges or side whatever you wanna call it about 10 years ago my sides fall out within four months of me growing my hair out. And it happens every time I try to grow my hair out longer than 3 to 4 months, my hair would just fall out.

It's not like it's going bald on the edges. It grows. Then last year I got a crown issue.

Can someone please tell me what's going on? I'm not convinced that it's going bald. I never knew any African-Americans that went bald on the side of their heads. My hair tends to grow very slow with no volume to my hair

I have no receding hairline. The top of my hair is fine, but everywhere else I'm seeing problems.... is this fixable?
Join in and write your own page! It's easy to do. How? Simply click here to return to HAIR LOSS DIET FORUM.
23 Year old Female Hair Loss
by Crystal
(Vermont USA)
I used to have the thickest hair. Ironically, I was never happy with it, I always wanted straight hair. Ha. My hair still has nice curls, but I've lost at least half of it...If not more, over the last 10 or so years. I suppose it was mostly gradual thinning, but about 3 years ago I started to really notice a widening part and my frontal scalp under bright light.

About 2 years ago I was finally able to go to a doctor and learned I had low vitamin d, iron (was quite anemic), B levels and was in the early risk zone for hypothyroid. As of October, my ferritin was 19, it had gone up. I've been off and on supplements, as waves of depression come and go. I just get discouraged easily and supplements are expensive. This winter I experienced a great level of hopelessness, despair, depression about my life in general, and of course my hair. I began a Rogain regimen, stopped after about a week... I began this because I finally went to a dermatologist and was told I had androgenetic alopecia!!! The derm spent maybe 5, 10 minutes before she diagnosed me. Is that craziness or what? I stopped taking my supplements for a couple months, then began again in March or April, on and off. Just this past month- May I began the Rogain regimen again. I also have been regularly taking my iron and B supplements. I maintained Rogaine application for almost the entire month. I did not notice any changes in my hair. I did however, notice a slight increase in water retention in my face. So I decided to end that.

In 2013? I lost maybe 30 lbs (from 160/170- 140). I was eating 700-1000 calories per day). Not healthy, at all. I'm sure this contributed to my vitamin deficiencies). I am currently 165-170 and really want to lose weight. I have been exercising the past couple weeks which I'm very pleased with.

I'm interested to see what the effects of gluten free will have on me. Coincidentally, last month, in addition to my commitment to my supplements, I made a goal to only eat whole foods, which was very successful, with the exception of the last couple days of May :(

I just really want my hair to grow back. I do feel hopeful, I just need to maintain the hope. 23 is very young for a female to have AGA thinning, but I sometimes think back to what the dermatologist told me. The diet I feel good about. I'm really hopeful this will work.

Join in and write your own page! It's easy to do. How? Simply click here to return to HAIR LOSS DIET FORUM.
Accidental Gluten Exposures
by Ser
(California)
Hi, Sheree. How long does it take for your hair to recover after a few accidental gluten exposures? I was following a gluten free restaurant guide and had a tostada that was identified as gluten free on a few occasions in the last several months, but I just now discovered it's wheat based. Also, does the amount of gluten matter? While I understand it's best to avoid all gluten, but what happens if yiou're exposed to traces of gluten?
Organic popcorn???
Hi I was just wondering if organic popcorn you pop in an air popper would be ok for a snack with real organic butter, and sea salt??? I know you said no corn, but was just wondering if organic popcorn would be ok once in a while without loosing our hair??? Thank you.
The health and diet information at The Healthy Diet Paradise has not been evaluated by the Food and Drug Administration, and is for basic information purposes only. If you have any medical issues or concerns, please contact your health care provider.
© Copyright 2011 - 2020





Sheree Gilkey is a participant in the Amazon Services LLC Associates Program, an affiliate advertising program designed to provide a means for sites to earn advertising fees by advertising and linking to amazon.com