Savory Christmas Holiday
Pork Roast Recipe

This pork roast recipe takes me back to the days of my carefree youth. My Cuban neighbor gave me this recipe when I was 18. She had to show me several times, because I kept forgetting the ingredients. Now, it is 32 years later, and I still remember how to do it.

When she baked this unbelievably delicious recipe, I will never forget the aroma. I remember begging her to show me how to do it. It's that good.

This Christmas, these pork chunks were almost gone before we even began our dinner.  Everybody was taking samples over and over until it nearly disappeared.  Lucky for us, we had turkey too!

This roast pork recipe is perfect to add to burrito bowls or  your holiday feasts.  Once you taste this delicious roast pork, you will never use another. This recipe is made with Cuban spices with lots of general spices mixed in.  This recipe is not spicy at all. There's just a ton of flavor.

The result is crispy on the outside, tender and flavorful on the inside. You will create many happy memories with this authentic Cuban pork roast.  Your family will be delighted and filled with anticipation when they eat this. This one is a keeper.
Ingredients:

One large pork butt
One large baking dish

10 garlic cloves

1 packet of Sazon Goya Con Azafran

2 packets of Sazon Goya con Culantro & Achiote (Coriander & Annatto)
2 tbs oregano

2 tsp salt

3 tbs olive oil

2 tsp Goya Adobo seasoning

2 tsp pepper


Directions for Pork Roast Recipe

Take 10 cloves of garlic, peel them and smash them into a pulp. Or you can use a grater and grate the garlic into very small pieces.  The garlic should look like a paste when you're done smashing it.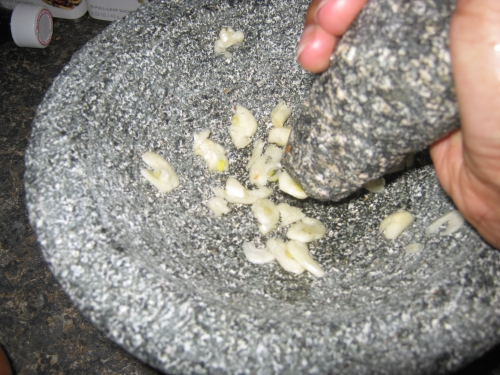 You can also use pre-crushed garlic. Fresh garlic is best, however. The garlic is the basis for the rest of this pork roast recipe. Fresh garlic is a super food, which gives an incredible aroma when it begins to cook. 

Add your salt to the pulp. The salt helps the garlic not roll around too much in the bowl, and the salt adds a touch of flavor.

Add the Adobo seasoning. Adobo seasoning is an authentic Latin spice, containing garlic, salt, tumeric, oregano and black pepper. Adobo is an all purpose seasoning that is used in many Latin kitchens.

Add 3 tablespoons of olive oil. When you are done mixing the ingredients, the oil will help to spread it over the pork roast recipe.

Add desired amount of pepper. The pepper enhances the color and flavor of this delicious pork roast recipe.

Mix all of these ingredients together until everything looks like a thick paste or pulp.  This is how it looks when you're first spreading the paste.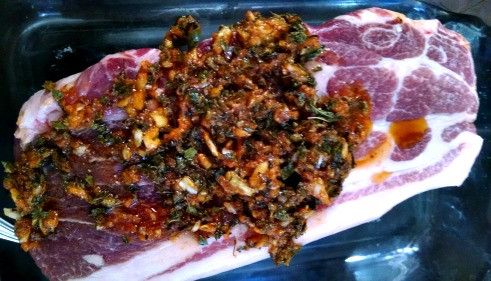 Generously spread the mixture over the pork roast until it changes color to a slight red. The Sazon Goya Con Azafran is what gives this mixture a reddish brown color.
It turns brown when it's done baking.

This is how the pork roast looks after the mixture is completely spread all over it.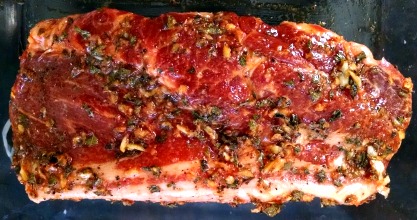 Bake at 350 for 2-1/2 to 3 hours. The lower the temperature, the more tender the pork. You can set the oven at 330 for 3-1/2 to 4 hours for extremely tender pork.  If necessary, even if you think it's done cooking, you can cut it open with a knife to make sure the pork roast recipe is completely cooked. Once it's done, use a knife to gently separate the pork into succulent chunks.   

The outside will be crispy, crackling, with a gentle brown color.

The flavor will astonish you. 
A medium to large roast will feed between five to seven people. 
Left over pork roast can be used in salads and sandwiches.

Pork chunks can be used to create burrito bowls.
Your roast pork dinner can be the main dish for the holidays. 

This recipe can be served with cut up avocado, red rice, a basic salad, and other truly authentic Latin side dishes.



If you love this recipe, you will love our red beans and rice, our burrito bowl, our healthy recipes,  our chicken fried rice, and our oven fried chicken recipes!


Pork is part of a healthy diet.  Click here to learn about the health properties of saturated fat.