Delicious and Easy
Chicken Fried Rice Recipe

Chicken Fried Rice Recipe in 20 Minutes

Our chicken fried rice recipe took less than 20 minutes to prepare.  We used brown rice because it has a moderate to low glycemic index.  Many Asian recipes call for white rice.  White rice scores a 90 on the Montignac Glycemic Index, which is almost the same as a pure glucose.  Unpolished brown rice has a score of between 45 and 50, which is an acceptable level.
Watch Step by Step How to Cook Chicken Fried Rice
Season And Add Ingredients Any Way You Like

There is a tremendous variety of recipe variations for fried rice.  You can combine pork, chicken, shrimp, or even do vegetarian.  You can even add scallops and/or snow peas.  The only thing you have to remember is to cook the rice ahead and refrigerate it overnight.
It's best to use left over brown rice from another day.  The reason for this is the cold rice hardens and breaks apart easily in the wok.  If you cook the rice right before you fry it in the wok, the rice will be sticky and won't come out right.

Click here to learn how to cook brown rice.

Crushed Red Pepper is Very Hot 
You only need tiny amounts of crushed red pepper to make this chicken fried rice recipe.  1/4 teaspoon will season the entire meal.  If you don't like slightly spicy food, you can leave the crushed red peppers off.

We Used Fresh Ginger Root And Fresh Garlic 
Ginger root is an odd shaped vegetable that has a very distinct flavor. You need only a very small amount of ginger to season the fried rice.  The ginger and the garlic are what make this chicken fried rice smell and taste like authentic Asian cuisine. 
What we did in the recipe is use a grater/peeler to grate the garlic and ginger root.  If you've read our super foods page, you know that garlic is a tremendous super food and a potent cancer fighter.  Get fresh ground garlic into your diet as often as you can.
The Picture Below is What Ginger Root Looks Like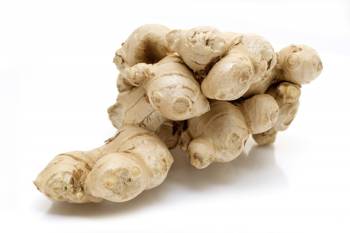 For Your Chicken Fried Rice Recipe:

You Will Need

4 cups of cold, pre-cooked or leftover brown rice

1 tsp of fresh ginger (grated)

2 tbs soy sauce (or gluten free)

1 bunch of green onions (chopped)

1 tsp course ground black pepper
1 pound of chicken breasts (diced)

2-4 tbs sesame oil
1 large carrot (shredded)

1/4 tsp crushed red pepper (optional)
2 cloves of fresh garlic (grated)

2 scrambled eggs
Delicious tip!  Our Thai restaurant adds cooked whole tomatoes to their fried rice.  I added diced tomatoes to this recipe, and it was absolutely delicious!  Try experimenting with different vegetables.  There is no right or wrong way to make fried rice.  Use whatever is in your refrigerator!
Directions For Your Chicken Fried Rice Recipe:

Scramble your eggs and set them to the side

Next, heat 2 tbs of sesame oil in wok for two minutes.  Add one tablespoon of soy sauce.  It may start to bubble a little bit.

Then you're going to add the ginger, pepper, garlic and crushed red pepper into the mixture until it becomes warm.
Then add the diced chicken and fry it for around five minutes, turning gently.
Add the eggs, green onions, carrots and mix thoroughly for about 1-2 more minutes. 
Then add the four cups of rice, and let it sit for a minute.  Then stir the rice and mix all of the ingredients together until it looks even. You can also taste the rice.  If needed, you can add more soy sauce.

You can cook the rice a bit longer for a crunchier texture, or you can pull it off the heat after a few minutes.  Refrigerate any leftovers.

Total prep and Cooking Time is around 15-20 minutes. 





Enjoy!

The health and diet information at The Healthy Diet Paradise has not been evaluated by the Food and Drug Administration, and is for basic information purposes only. If you have any medical issues or concerns, please contact your health care provider.
© Copyright 2011 - 2020





Sheree Gilkey is a participant in the Amazon Services LLC Associates Program, an affiliate advertising program designed to provide a means for sites to earn advertising fees by advertising and linking to amazon.com