Classic Quinoa Recipe
This quinoa recipe has a decadent taste and subtle flavor.  For vegetarians, leave off the chicken and it's very delicious.  Quinoa is a pure and complete source of protein, so this makes a complete meal.


  Ingredients For Quinoa Recipe
One cup of quinoa of any type
Two cups of chicken stock or vegetable stock
One large red onion
Two large bell peppers of different colors 
One tsp of salt 
One tsp of pepper 
Three cloves of fresh crushed garlic 
Pre-grated parmesan cheese 
1-1/2 pounds to two pounds of chicken or shrimp
Three tablespoons of extra virgin olive oil
Three cloves of crushed garlic
20 to 25 leaves of fresh basil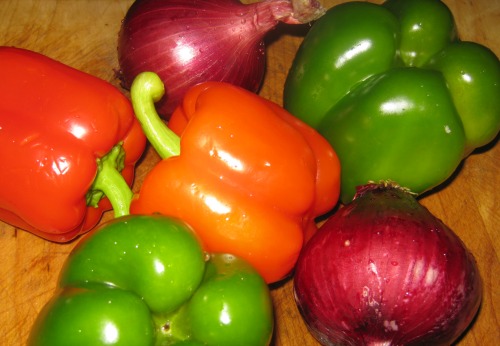 Directions
Rinse quinoa in a strainer. Quinoa may have a soapy residue on top when it's wet.
Cook quinoa per directions: In a medium sized pot, add one part quinoa to two parts liquid. For example, one cup of quinoa and two cups of water or broth

Bring quinoa to a boil, then lower heat and cover. Quinoa takes about 10 to 12 minutes to cook.

Set Quinoa to the side
Pre-heat a large pan with olive oil. Place cut up chicken breasts into the pan with oil and cook until it's brown. Once the chicken is well heated and browned, add crushed garlic, salt and pepper.
Once the chicken mixture is done, add the cut up bell peppers and onions. Stir aggressively for about one and a half minutes. Take extra care not to over cook the vegetables because bell peppers cook very quickly.

Turn off the Heat
Take the pre-cooked quinoa and add it to the chicken, bell pepper and onion mixture. Mix gently.

Next, toss in the basil leaves and gently fold the leaves into the mixture until the leaves begin to wilt. Mix well.

Top with grated Parmesan cheese. Serve hot.

This serves four people. When we make this for company, we double the recipe to accommodate however many guests we have.

As a Side Vegetable, You Can Bake Asparagus
Take a bunch of asparagus and snip off the tough ends. Place asparagus flat on a cookie sheet. Drizzle the asparagus with olive oil. Sprinkle with salt and pepper and bake at 400 for 10 to 12 minutes.

Quinoa is Very Unique
This quinoa recipe has a very unique flavor.   It can be reheated the next day and tastes even better.
The flavor will delight you. This recipe has a rich exotic flavor, and will keep you coming back for more.




The History of Quinoa

What is Quinoa?
Quinoa, pronounced keen-wah, was a staple of the Aztec and Incan civilizations 4,000 years ago. The word Quinoa actually comes from the Incas, and means chisaya mama or mother of all grains.
Quinoa is actually a seed, although many people consider it a grain. The quinoa seed is harvested from the Goosefoot plant.  It's is a staple of many countries, including Ecuador, Peru the Mediterranean, Bolivia and many more.


The Quinoa Seed Comes in
Red or Ivory
 I personally think the red quinoa tastes better, but I digress. Quinoa is very inexpensive and stores well in a cool, dry place for many months.  

Quinoa can be used as a gluten free breakfast cereal, in soups, stews, pasta, salads, baby spinach, as a main dish or as a side dish.  Quinoa is cooked just like rice, but is far more versatile and nutritious. Quinoa has an exquisite, nutty texture and taste.


Quinoa is an Excellent Source of Protein

Quinoa does not have to be mixed with other foods to make a complete protein. Quinoa has all the building blocks of protein, which makes it a complete essential protein. Quinoa has all nine essential amino acids, which comes to 11 grams of protein per serving. Quinoa can be used as a meat substitute for vegetarians.
Quinoa is loaded with nutrients. Quinoa is an excellent source of manganese, iron, calcium and Vitamin A, folate, thiamine, riboflavin, manganese, magnesium phosphorus, copper, zinc potassium and selenium.

Quinoa will not spike your blood sugar which makes it excellent for diabetics. Quinoa is gluten free, and is amazing for your heart.


Click here for more information on the nutrition content of quinoa

The health and diet information at The Healthy Diet Paradise has not been evaluated by the Food and Drug Administration, and is for basic information purposes only. If you have any medical issues or concerns, please contact your health care provider.
© Copyright 2011 - 2020





Sheree Gilkey is a participant in the Amazon Services LLC Associates Program, an affiliate advertising program designed to provide a means for sites to earn advertising fees by advertising and linking to amazon.com