Restaurant Quality
 Chicken & Cheese Soup Recipe
This is what our chicken cheese soup recipe looks like in the pot.  It has a corn chowder type of thickness, and
the flavor is surreal.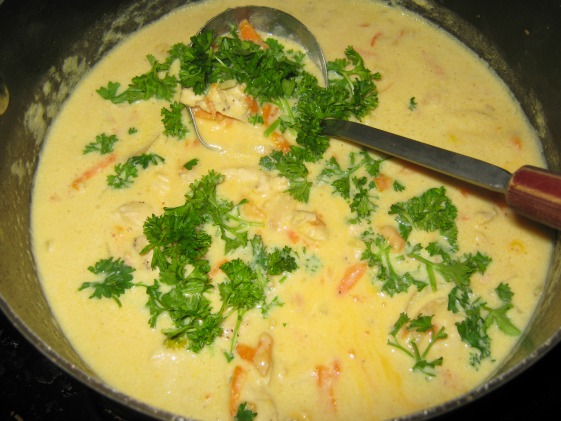 This is a restaurant style, high quality, creamy chicken & cheese soup recipe.  This recipe is thickened with chickpea flour, and topped with parsley.  You can use broccoli instead of parsley, and you'll have broccoli cheese and chicken soup.  There are a hundred ways you can spin this recipe.  I basically just used whatever I had in the house, and this soup came out just beautifully.
I took an old family recipe, and I tweaked it so that we could have it for our low glycemic, gluten-free food program.  If you're looking for an unbelievably easy, healthy chicken and cheddar cheese soup that will warm your bones, this is the one for you. If you are a vegetarian, you can leave off the chicken and make cheddar cheese soup.  It's excellent either way.
Ingredients For This Masterful Chicken and Cheddar Cheese Soup Recipe
1-1/2 cup of cut up cooked chicken

1 cup of chicken broth

2 cups of soy milk or regular milk

1/4 cup of chickpea flour

1/4 teaspoon of Xanthan gum

1 cup of cheddar cheese

1/2 cup of parsley

1/8th tsp black pepper

3 tbs olive oil

1 cup of shredded carrots

1/4 cup of chopped green or regular onions

If you want this as a main meal, you're going to need to double the recipe.  The recipe listed here is only enough for an appetizer.  But the soup is satisfying and a complete meal, and it will fill your family up.  So if you just want the soup alone, double everything in the recipe, and you'll have enough for dinner for four.  If you don't double the recipe, you'll have enough soup appetizers for four.

Directions:

The first thing you're going to do is chop up and cook a single chicken breast.  You definitely want very small chunks so that it blends nicely into the soup.  You can add the pepper to the chicken when you're cooking it. Set the chicken to the side because you'll be adding it to the soup mixture in a few minutes.

In another pot, take your shredded carrots, chopped onions and olive oil and fry them together for about five minutes. Add the chickpea flour, then slowly add two cups of milk, the pre-cooked chicken and one cup of chicken broth.  Keep stirring until the mixture starts to foam around the sides.  Add the Xanthan gum. 
Lastly, you add the cheese and mix it into the soup mixture until it melts.  Top with parsley.  You can also add broccoli florets and make broccoli cheddar cheese soup. 

After you turn the fire off, let the soup sit for a minute or two to thicken.

Note: The Xanthan gum is used to thicken recipes because we do not use white flour or cornstarch. Xanthan gum and chickpea flour makes this soup low glycemic and gluten-free.  Chickpea flour is also called garbanzo bean flour.
Watch your family's facial expression light up when they take their first bite of  of This Chicken & Cheese Soup Recipe!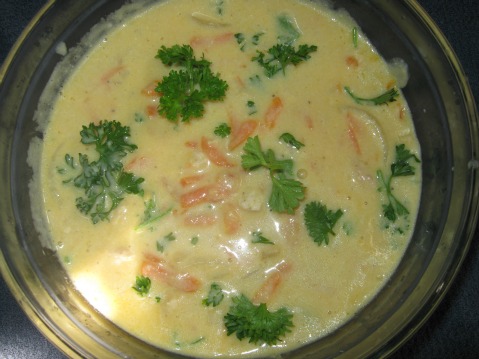 Do you want to try another soup recipe?
Link here to our Easy Chicken Soup Recipe