New Hair Growing!
by Nat
(Australia)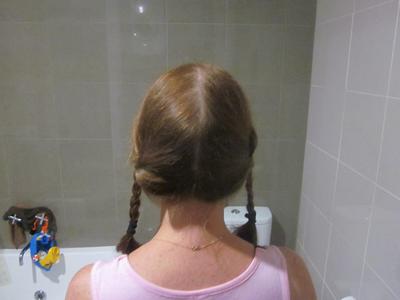 Hi Sheree. Quick update – I'll email some pics, but hair still has lots of fine new hair growing. Still not full scalp covering or very thick – I have been doing diet for 8 months now which comes naturally to me. I could probably amp up the green veges but all in all I'm doing well.


I'm good and still 100% on the Healthy Diet Paradise. I really love your work and truly believe my hair will come back, it's just a matter of time
I think since my hair loss has been for 13 years, it will just take longer for my body to recover, Your thoughts?
Anyway, I just wanted to know whether you think using Minoxidil would be a good idea to help with my hair resolving as well as your diet, or should I not go near the stuff?? I'm a bit unsure and thought perhaps I should just wait at least a year for the diet to see just how much better my hair becomes. What do you think??
Anyway would love to hear from you – love Nat
The last 3 photos show little bits coming through my part line
What do you think of my pictures? Did my hair look like yours did before yours grew back??
Nat
Nat's Stunning Hair Regrowth Before and After Photographs
by Nat
(Australia)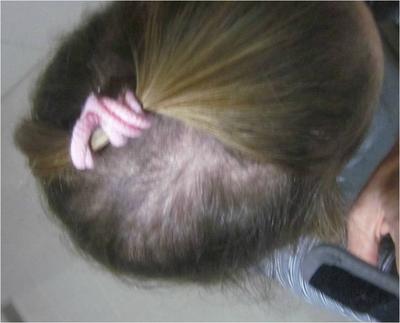 Before Picture From June 2012.

These are pictures of Nat's hair re-growth for the last 10 months. Natalie stuck by this diet. She asked questions, and she stuck to her guns. I am extremely proud of her. This is a gift you give yourself, and Nat did this herself.

Her hair recovery has been very steady. She is ten months on the hair loss diet. From the pattern of her re-growth, we expect it to take possibly another year for her hair to become very thick.

Congratulations, Nat.

You are such an inspiration.

I love you like a mother hen!

Sheree


View Nat's 18 month regrowth video slide show!




More Pictures From Nat!
by Nat
(Australia)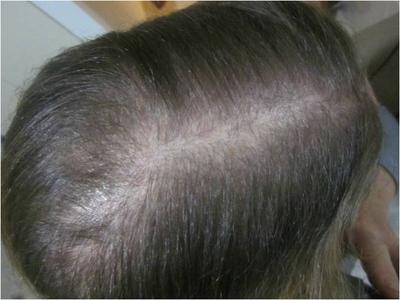 Nat's Before Picture (June of 2012)
This is my favorite photograph, because you can see the steady rate of growth. Nat's hair is much thicker around the center of her head. In the before photograph, her part is jagged and uneven. In the after photographs, the part line in the middle is normalized. In the after photographs, her hair is much thicker and has a very soft, healthy, silky texture.
Nats Hair is Much Thicker Now: View Before and After Hair Loss Photographs
by Nat
(Australia)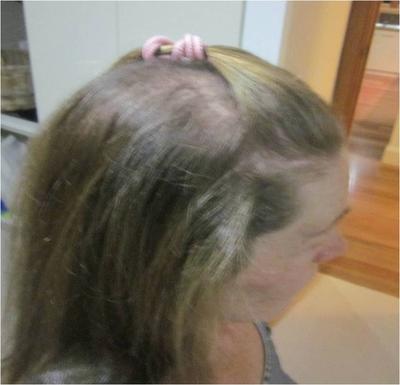 Nat's Before Picture (June of 2012)
Nat, you are going to be famous! This is just incredible!
I'm Seeing Hair Growth!
Hi Sheree. I found baby hair growing along the hair line. I'm excited to see 2 inches of fine hair on the top which is very fine growth. It is in small numbers, but I'm hopeful that my hair becomes thick sooner.

So far my hair fall is reduced to 30%..i can say it is less than 40 strands of hair, but i see my hair is breaking in between which is less severe. Are there any hair masks?

I completely avoided processed foods and sugar. I'm taking eggs regularly and I'm not so regular in having vegetables except carrots. I'm taking hair, nail and skin supplements.

When I put egg mask on my hair, I see more hair is clogging up in the tub. Can you help me with this?
Before and After Six Month Hair Re-Growth Pictures!
by Nat
(Australia)
Hi Sheree, I've done a document of my June 2012 vs Dec 2012 hair shots - I would love your opinion on the comparisons. I began the diet in late Feb 2012.

Feel free to post on the forum - hopefully others will post theirs as well

I await your comments

I actually have to email the document to you - will do now

Love Nat
I'm Noticing Re-Growth!!!
by Natalie
(australia)
Hi Sheree. It's Nat again!! I wanted to mention that I have really fine baby white hairs around my hairline that I don't recall noticing before. I used to have a devil's peak when I was younger but then it was more of an angel's peak as in just straight across. However, now the devils peak looks like it is there but very fine blond hairs.

I put mascara on them, and they look like they used to when I had this peak of brown hair. Could this too be a sign on regrowth? - is it likely that the hairline comes in first before all over scalp regrowth?

Also, could it be that my hair regrowth will take more than five months to start improving and not as early as some other people?

Thanks Sheree

Love Nat

I Have A Hair Line Question
by Natalie
(Australia)
Hi, Sheree, it's Nat. My hairline seems to be really growing in a lot quicker than the hair on top of head. I have a lot of new fine hairs around the hairline. Did you find that your hairline grew in quicker than your top hair?

Also, I'm still learning to eat the right food, and I'm cooking a lot more than I used to. I find the diet to be much easier. I don't miss the sugar at all.

Love

Nat
Nat's Hair Loss Diet Hair Growth Photographs!
by Nat
(Australia)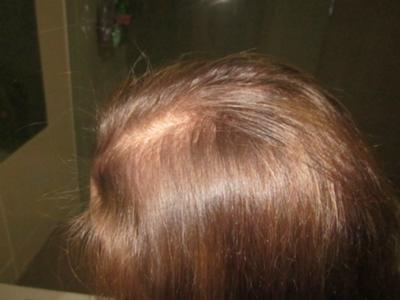 Click here to view Natalie's hair growth photographs. I'm so excited for you Natalie!
Hair Loss Diet is Working Beautifully For Nat (Photographs)
by Nat
(Australia)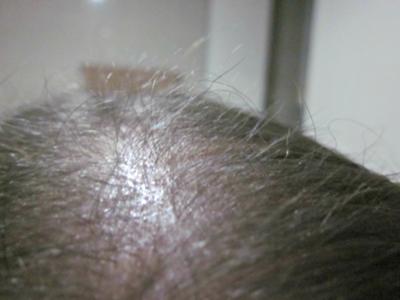 small hairs growing up
Hi, Sheree. Here are pics of the really small hairs that are growing in my part line - also couple of other pics for you and one of me and my two beautiful children who are 4.5 and 2.

I would love to know your thoughts on my hair and if you can make anything out of that small stick up growthy bits - hard to see but there are so so many of these as I got my husband to check - they are noticeable. When I comb the rest of my hair down hard, they stick up through.

Love Nat


PS I am posting two messages to you with more photos to follow.
The health and diet information at The Healthy Diet Paradise has not been evaluated by the Food and Drug Administration, and is for basic information purposes only. If you have any medical issues or concerns, please contact your health care provider.
© Copyright 2011 - 2020





Sheree Gilkey is a participant in the Amazon Services LLC Associates Program, an affiliate advertising program designed to provide a means for sites to earn advertising fees by advertising and linking to amazon.com