Lara's Courageous Hair Regrowth Story After 25 Years of Hair Loss!
by Lara
(India)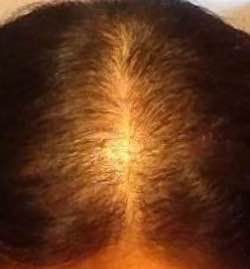 April 2014
Congratulations Video for Lara! Watch Below.


It has been a long one year. The diet has been easy for me, the waiting on the other hand, has not! I stumbled on your site after trying scores of other treatments and finding that absolutely nothing worked for me. I have had diffuse hair loss since the age of fifteen and this has been an ongoing process for 25 years!
Within the first month of this diet, I started seeing little hair in my middle part, where there was nothing before. I was ecstatic! Three months down the line, I was still sticking strictly to the diet, but started shedding like crazy. My pictures from that time show even less hair than I started with.
I was devastated, but you told me to hang in there. After reading other submissions on this site, I realized that this shedding could perhaps be a normal occurrence in the whole process of regrowing hair. At this point acupuncture helped a lot.
After a month or two of shedding, I stabilized. However, through this entire period the regrowth continued but I guess the tiny new hair was too delicate to provide any real visual reassurance. I rapidly came back to how my hair was earlier and then started improving further.
Just like Brian said, around the 10th month mark, I was convinced my hair started looking better, even without the aid of the camera. This is a good thing because with pictures, you are never quite sure if the improvement is due to the lighting or angle or whatever else is
different.
Now that my hair is slowly but surely growing back, I'm sometimes impatient because the whole process is so slow. However, I realize that if I had not started this diet, forget reversing hair loss, I would have just got worse and that is such a scary thought!
As things stand, I guess I'm a walking miracle because every single doctor has told me that there is no stopping and no curing my kind of hair loss.
So Sheree, my miracle maker, thank you from the bottom of my heart! Nat and Brian, you were my inspirations! I'll end here as this is sounding increasingly like an acceptance speech for an award!
Lara.
Update for Lara September 2015
by Lara
(India)
Hi Sheree,


I have attached a pic which shows my hair from July last year and September this year. I'm so excited because in the smooth shiny spot (July pic) you can now actually see hair growing (Sept pic)!


I think the hair is growing back first from the place it started falling out first. Each individual hair also seems thicker! I'm so, so very happy!!!!


The other thing I noticed is that my hair that used to lie flat is
more upright now. Do let me know if hair does grow back first in the
areas from where it fell out first.


I know i said this before, but I'm so totally excited! I wish I could
come there and give you a great big hug!!!!


Love,

Lara