Easy Quick Weight Loss From a No Sugar Diet
by Teri
(USA)
I was a die hard sugar addict. I was addicted to anything with sugar. You name it, cookies, candy bars, cake, pie, juices. It was hard getting off of the sugar, but every day it got easier. Each day that goes by and you don't eat sugar, your body is getting rid of the effects of the sugar.


The weight loss was pretty quick. There was one week where I lost a pound a day. Total weight loss so far is 50 pounds. Menopause is holding me back right now because of symptoms that I'm having.
You can lose weight on this diet, but exercise will make it come off a lot quicker, too. The only exercise I get is walking around all day at work. The only sugar I have is 70% cacao dark chocolate. I have now given up diet sodas as well because aspartame is not good for you.
I cook way more than I did when I used to eat sugar. The only fast food I eat is El Pollo Loco. I get the two piece meal with chicken and beans, cilantro and pico de gallo sauce.
I hope to be losing weight again soon. I would like to drop another 40 pounds hopefully in the future to try to become healthier.
Before & After No Sugar Diet Weight Loss Photographs
by Teri
(USA)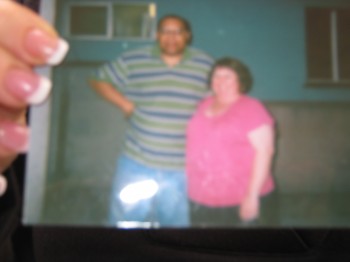 This is a picture of me when I was 50 pounds heavier. The picture in the pink shirt, I weighed 232. The second photograph of me in the black, I dropped 50 pounds simply by not eating sugar. Let me know what you think.