Antonio's Hair Loss Pictures and Story
by Antonio
(Chicago, Illinois, USA)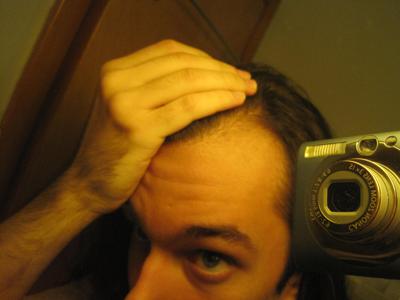 My left temple
Hello again Sheree and everyone! Here are my pictures. I already posted an introduction a few weeks ago but didn't manage to take the pictures until today, so here they are.


I started losing my hair when I was about 20, I am 23 now. It seems to be progressing somewhat slowly. The first time I dealt with hair loss when I was 20, I lost a somewhat big glob of hair after shampooing in the shower, and it left a small but super annoying spot near my left temple. And as you can see it progressed from there.
I used to eat an entire half baguette
(multi-grain, but after reading this and other sites, I'm sure that it's almost as bad as any other bread) with dinner, but after reading this site and other articles linking Male Pattern Baldness with diet, I completely eliminated bread. I ate lots of bread with lunch as well as dinner. I've probably been on this diet for a good week, after about a week or two of transitioning to not shock myself.
Now, I feel that my diet is more or less acceptable for reversing my hair loss.
In case anyone was wondering, or wants ideas, here it is:
For breakfast, it's basically a whole egg, maybe a few egg whites depending on my hunger, a handful of spinach (with every meal I grab a big handful of pre-washed and cut spinach and eat it separately), maybe 1/4 of a bell pepper
Later I usually have green tea, sweetened with star thistle honey (I'm thinking of removing the honey too though, I think that's my only source of sugar)
For lunch it's one of a few things:
Some days it's escarole with Great Northern Beans (I think they are called white beans? I boil the escarole first then mix in the beans with Extra Virgin Olive Oil), or:
-Pinto beans mixed with red onions, cooked in a frying pan with Extra Virgin Olive Oil, or:
-I simply make a salad, take a handful of spinach, maybe half an avocado, then some pinto beans or black beans, maybe some albacore tuna in oil if I'm hungry, and mix it all together.
Dinner is almost always the Escarole with Great Northern Beans or the Pinto Beans with red onions. Some days it is Rapini (Broccoli Rabe) with Great Northern Beans, pretty much the same thing as the first one but with Rapini instead of escarole. Some days, I have Salmon grilled on a hot plate (not very often though).
Anyway, in addition to following this diet I decided to remove all grains, or as much as possible (besides Quinoa, I still want to try that but keep forgetting), I also removed all breads, and very rarely eat red meat anymore. My diet really revolves around beans, which is lucky because I love beans so much. Black Beans, Pinto Beans and Great Northern Beans. I also love albacore tuna, I use canned tuna in oil.
I also do a few unorthodox things for my hair. I perform at least an hour of Balayam yoga every day, which is rubbing the surface of your fingernails together to stimulate hair growth, prevent graying, etc. It sounds crazy, but it's free and has no side effects, and my nails are very shiny because of it! Supposedly it works by stimulating nerve endings underneath the fingernails.
The other thing I do is a scalp exercise, basically you fully contract the muscles in your forehead, then relax them as you contract the occipital muscles in the back of your head, which moves your entire scalp a good inch or so. My scalp seems very flexible, and I wouldn't be surprised if it's because of this. It supposedly increases blood flow to the galea. It's not a massage though, it's an actual exercise where you use your muscles in your head instead of your hands.
I think my biggest problem is portion control, I have no weight problem at all, but I still kind of think that I eat a bit too much, mainly at dinner. I also do intense exercise about five days a week.
Anyway, thanks again Sheree for providing this great website free of charge. I'll be religiously sticking to my diet to regrow my hair!
I retyped my old message to avoid confusion. Also, my hair in the back looks fine, so I didn't include that picture and used a more useful one).