Fine thin hairs on the temple/corner of my hairline where it receded
by Andrew
(Netherlands)
Hello Sheree, my name is Andrew.


I used to have very thick dark Asian hair which i inherited from my mother/grandmothers side, where hair loss is pretty much non existent, my grandmother never even went grey.
Unfortunately my current hair condition is extremely pathetic and depressing compared to when I was a young teenager. When I had all of my hair I never learned to appreciate it. I just took it for granted.
Now a huge amount of it is gone, including the messed up hairline. I regret not taking better care of myself.
It's only now that I lost so much of it that I truly have started to appreciate it, though i fear it may not be possible to regrow all of it, especially the one thick hairline.
My left side of the hairline used to be a diagonal line downwards, and the right side used to be a straight line, both of them are badly receded now, to what I would guess is a nw0.7-nw1.
Anyway I have been following the hair loss diet for about two months now, and areas like my crown and hairline have well improved but are still bad.
I am starting to see a lot of small baby/fine thin hairs on my temples (corners) where it receded. Are these just miniaturized hairs or are those hair follicles slowly starting to become active again? I can see them pretty well when I shine a bright light on those areas.
The center part of my frontal hairline is also very thin and looks horrible. I also noticed that the left side appears to grow back faster, but i could be wrong.
Before i started to follow this hair loss diet, pretty much ate every unhealthy, bad food you can think of, and none of the healthy ones.
I had also been dealing with a very large amount of stress which i guess made my hair loss even worse.
My diet is usually something like this:
Fish (wild caught), spinach leaves, broccoli, onions, brown rice, carrots, peas, black/red kidney beans/brown beans,cucumbers, and sometimes cauliflower and small bags of several different kinds of vegetables.
I have attached some photo's of my hair condition. I would like to hear your input on my situation.
Thank you very much.
Andrew's Exciting Hair Regrowth Update!
by Andrew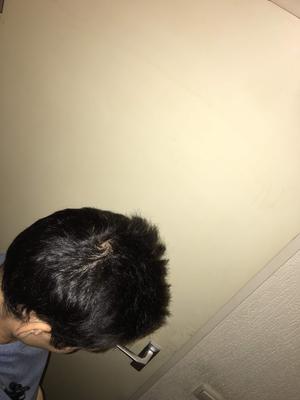 Hello Sheree,

Here is an update on my current hair condition. I have included several photo's.
I have also noticed even more thicker/longer hairs appearing at the sides/temples, and it appears that the left side is somewhat growing back faster than the right side.

Though at certain times of the day my hair feels much weaker and thinner than at other times, I'm not sure why that is, i'm guessing it's still inflammation that my body has still not been able to get rid of.

My guess is that it will probably take me another 20 months or so to see the regrowth that i am hoping for, might take even a bit longer than that though if i'm being realistic.

But I am being hopeful that throughout 2017 my hair regrowth will truly kick in.

In the beginning it was very hard to keep the diet up with all the unhealthy trash foods and drinks around me that other people still eat/drink, and the fact that most people just laugh at the idea that hair loss is an hormone/lack of nutrition and inflammation issue (bad foods and drinks) has not made it any easier either.

But I know I would have gone bald eventually if I did not dramatically change my lifestyle.
Most people don't take it very seriously, and they assume that any type of hair loss cannot be stopped or reversed ,and that it's just your fate if it happens to you, though the evidence i have personally witnessed on myself has told me otherwise.

But anyway, i have managed to keep myself on the diet and avoid any of the hair loss causing foods and drinks up until now. I only drink clean water now just to make sure.

I also noticed that I am feeling a lot healthier already and my skin seems to look better as well, and my thinking capability has without a doubt improved as well.

Even certain small pains have mostly already disappeared, and I am feeling much happier for some reason.

I have lost quite a bit weight, which everyone has noticed. I am now stuck at around 60kg and don't appear to be gaining weight.


Anyway, I will keep sending you updates for at least the next 20/23 months or so until my hair has grown back.

Best Regards,

Andrew