Here We Go
by Hector
(Washington DC)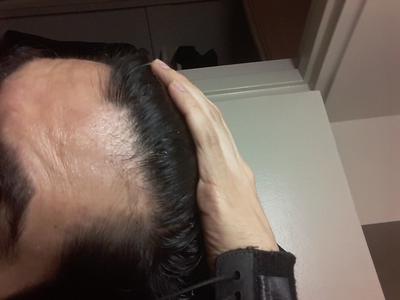 Right side
My thick wonderful hair is beginning to thin... Could you imagine that. I started losing the bulk of it when I went on a vegan diet but I was noticing that I was starting to lose a little bit of the hairline, nothing to be alarmed about. But after I went on a vegan diet my hair loss accelerated at light speed.


So based on everything I read on this website and the books and the videos I watched. This is the diet I'm adopting.
Breakfast
Normally two to three eggs, black or pinto beans with quinoa and a mixture of red bell peppers and white onions. Sometimes I use broccoli. Also on some days I'll have one egg boiled and a can of sardines, with the same vegetables I listed above. I also include either some avocado or queso fresco
Lunch
Chicken thigh baked with skin and bone. About two cups of spinach mixed with a little bit of onions are the red white or yellow and some red or orange bell peppers. I also eat it with non GMO blue corn or yellow corn tortillas... I'm Mexican what can I say lol.. the non-GMO variety can only be found at Whole Foods as far as I have been able to detect I used to Ula brand. Day in day out I substitute the tortillas with red quinoa or chickpeas and I usually eat it with the mixture of some avocado or queso fresco.
For a snack I eat about a half a cup of whole milk yogurt plain with either a banana, blueberries, or two medjool dates.
Dinner
A bowl of either red black or green lentils mixed with beef gelatin. I use a brand called Great Lakes and use about 2 tablespoons. I eat this with a quarter of an onion red white or yellow, a whole avocado in about a quarter cup of cilantro.
On Tuesdays I have class so I don't have time to cook so I just eat a really large bowl of whole milk plain yogurt with 6 medjool dates and half a cup of blueberries.
I found that if I don't eat enough I still lose hair. That was based on eating like this, or better said something like this starting about two to three months ago. At that time I wasn't eating any quinoa or very little no beans for breakfast or lunch and definitely no tortillas. And I think I was under eating because I lost a a lot of weight, like I used to be 152 lb and I dropped to 128. So I don't think I could grow hair if I'm losing that much weight that fast. That's mainly why I added the carbohydrate foods especially the beans the tortillas and quinoa because I realize I just was not eating enough.