Delicious, Easy to Create
Low Glycemic Recipes & Videos

Low Glycemic Recipes Based on Famous Diet Programs


The low glycemic recipes listed below are based on the Atkins diet science and South Beach. It has been proven in many studies that low GI foods rapidly reduce extra weight by lowering insulin.

Make sure you read our low glycemic index foods page for a full explanation of the importance of a low glycemic diet.

The low glycemic recipes on this page are user friendly and simple to make,.  They are highly recommended for our hair loss diet participants and our weight loss program.


Advertisement

Low Glycemic Recipe for Burrito Bowl

The Healthy Diet Paradise's Blockbuster Burrito Bowl
Ingredients

One or two pounds of chicken breasts
2 cups of black beans (or use recipe below for Peruvian Beans)
3 or 4 large red and green bell peppers
One white onion
One large tomato
One small container of sour cream
Two cups of grated cheddar cheese
One red onion
One tablespoon of oregano
3 cloves of garlic
Two tablespoons of olive oil
One teaspoon of pepper
One large avocado
One cooked pot of brown rice
One large tomato
One small container of sour cream
One teaspoon of fajita seasoning
One packet of Sazon Goya Con Culantro & Achiote (Coriander & Annatto)
If you don't have Sazon Goya's Con Culantro & Achiote, you can just use your own spices. Salt and pepper will work too. And then you can add some type of salsa to give this burrito bowl an extra kick. You are not limited in any way as to what spices you can use.

Directions For Fajitas:

Cut the onions, green and red bell peppers into even length strips. The bell peppers and onions should be brightly colored and mixed together. Heat a large separate pan.

Place fajita seasoning and one tablespoon of olive oil at the bottom of the pan. When the pan is hot, place bell peppers and onions into its own pan and let it fry there, stirring frequently. Do not over cook. It should take about three to four minutes for the fajita mixture to be done.

Set the fajitas to the side. 


Directions For Chicken:
Take 1-1/2 pounds of chicken breasts and dice them into small pieces, and set it to the side.
Grind 3 garlic cloves into a pulp. Then take one packet of Culantro & Achiote and put it into the garlic mixture. Add one tablespoon of oregano, one teaspoon of salt, and one teaspoon of pepper into the garlic.

Mix entire mixture together. It may look a little red. Add about a tablespoon of olive oil and mix it into the mixture until it's smooth.
Heat a separate pan until it's hot, but not too hot. You want the chicken to sizzle right when it's put into the pan.  Take the garlic pulp mixture and put it into the pan and let it warm up a bit.
Place the chicken bits into the pan, spread it around and let it sit there. Let it sizzle until it looks a little brown on one side. When you are confident that it's done on one side, flip it over until the other side is done. Then keep flipping the chicken until it's fully cooked.

Set the chicken to the side.

In a large bowl, place cooked brown rice, cooked chicken, cut up tomatoes, sliced avocados, fajitas, cheese, sour cream, and whatever other toppings you may choose.

You can change up the recipe and do it your way. You can change the ingredients to suit your tastes. I hope you love this one, because we sure do. At our house, fights break out over the leftovers.

This is by far our favorite low glycemic recipe. This burrito bowl will satisfy your most picky eaters. This meal will become a staple in your home. There's nothing like it in the world. Let me know what you think!
How To Cook Dried Beans

Low glycemic recipes for dried beans are easy to follow.  You can make Peruvian beans (Mexican Yellow Beans) with your burrito bowl. If you use canned beans, make sure the ingredients list salt, water and beans. Many manufacturers put sugar in beans.
Peruvian beans are also called Peruano or Azufrado beans. They are easy to make, and can be eaten with just about anything. This recipe for beans is very easy and clear. All you need is Peruvian beans, fresh whole garlic cloves, water, bay leaves and sea salt. Peruvian beans do not require soaking. They are amazing. Anyone can make this.  

Black beans recipe here


Chicken, Yams, Green Beans & Brown Rice
You Will Need:
One uncut whole chicken
Pepper
Lawry's Seasoned Salt
Parsley flakes

Directions: Cover whole chicken with "Real" mayonnaise, then coat the chicken with parsley flakes, pepper and seasoned salt. Bake for one hour and 45 minutes at 380 degrees.



Advertisement

Low Glycemic Recipe for Crispy Chicken Thighs:

Tip: The baked rotisserie chicken recipe above is exactly the same for this chicken thighs recipe. Even if you're not crazy about dark meat, with this recipe, it's so good, it doesn't matter. The chicken thighs are well done and crispy on the outside and tender and well done on the inside. You will love this.
Chicken thighs are budget friendly with an average pack of 12 to 15 pieces costing approximately $5.00.

Ingredients:
One family sized package of chicken thighs, two tbs Kraft Real Mayonnaise, (not low fat) Lawry's Seasoning Salt, or season to taste, parsley flakes, pepper to taste.

Directions:
Take the mayonnaise and spread it in a thin layer over the front and back of the chicken thighs. Take the seasoning salt and pepper, parsley or other seasonings you prefer, and liberally spread it on the front and back of the chicken.
Bake the chicken thighs at about 380 for about one hour and fifteen minutes. The lower temperature causes the meat to become tender. This chicken thighs recipe is excellent because the meat falls off the bone. The texture becomes crispy and palatable.
Click here for our new oven fried chicken recipe. It's the Healthy Diet Paradise's version of comfort food.

Low Glycemic Recipe for Fresh Fried Green Beans:

Ingredients:
Fresh green beans, salt, pepper, olive oil, butter or margarine and olive oil.

Directions:
Snip the tips off the beans. Melt one tablespoon of butter or margarine in a wok or a large nonstick frying pan, add a dash of olive or canola oil. Heat for about two minutes.  
Place beans in frying pan and fry for eight to ten minutes. It's best to leave all vegetables crispy so that they retain their nutrition, flavor and texture. This chicken thigh and vegetable combination is also an excellent choice with brown rice or alone.
Tip for Low Glycemic Recipes: Try your best not to over cook starches. Cook starches until they are al dente, which means "to the teeth." When you overcook starches, it raises the glycemic index.
Low Glycemic Chicken Adobo Made From Scratch



Tip: For chicken adobo, you use equal parts soy sauce and vinegar. Use more or less depending on the size of the whole chicken.

Ingredients:
One cut up whole chicken (You can also use pork chunks.)
¾ cup Heinz vinegar (one cup for a large chicken)
¾ cup Gluten Free Tamari Soy Sauce (one cup for a large chicken)
5 bay leaves
½ tsp. pepper
½ tsp. fresh diced or ground garlic (optional)
One medium sized onion

Directions:
Place fresh cut chicken pieces into a non stick pan. Turn the flame on to medium heat. Place the chicken, onion, soy sauce, bay leaves, pepper, vinegar and garlic into nonstick pot. Bring to a gentle boil for about 45 minutes, stirring occasionally. You can tell when it's done when the chicken starts to separate a little bit. This is delicious served by itself or on a bed of brown rice.

Low Glycemic Recipe for Multi-Colored Bell Pepper & Chicken/Beef:

Ingredients:
One of each: Orange, yellow, red and green bell pepper
1/2 large onion
1 cup of cut up chicken
1 cup of cut up beef pieces (tri tip)
2 tbs Gluten Free Tamari soy sauce
1 tsp pepper

Directions:
Cut bell peppers and onions into medium sized pieces and set to the side. Lightly oil a wok or pan with olive oil. Place beef pieces onto slightly warmed up wok. Grill for approximately ten minutes. Lightly sprinkle soy sauce onto beef pieces until beef is almost cooked. (That's because beef takes longer to cook than chicken.)
Add chicken and onions and cook until chicken pieces are cooked and tender. Add pepper onto the chicken, beef and onion mixture. Add bell peppers and cook for an additional two to three minutes. Be careful not to over cook. Bell peppers can become soggy very quickly. This meal is delicious alone, and can also be eaten for breakfast.

Click here for a superb Quinoa Recipe!
High Quality Vegetable Recipe
Low Glycemic Recipe for Mixed Vegetable Delight



You Will Need: Red, orange, green & yellow bell peppers, one red onion, one yellow squash.

Directions: Place olive or canola oil into a pre-heated wok or pan. Pour oil, parsley, pepper and salt and coat the bottom of the pan. Cut up vegetables and place them into the pre-heated pan or wok.
Stir rapidly for about one and a half minutes until the seasoned mixture coats the vegetables. Serve alone or with a meat dish.
This dish can be used as a phase one diet or phase two diet. This dish has a sensational natural flavor and complements many meals as a side dish.

Click here for a low glycemic recipe for bok choy!



Low Glycemic Recipe for Talapia & Onions
Ingredients:
Six to eight pieces of fresh Talapia pieces
½ onion
1 tsp McCormick Grill Mates Montreal Steak Seasoning
1 tsp virgin olive oil
Directions For Pan Fried Tilapia:
Spread olive oil onto non stick frying pan. Sprinkle Montreal Steak Seasoning over the entire pan. Place flame at medium heat and let it sit for about a minute. Place Talapia and onions into the pan and let it fry for about six to seven minutes. Take a spatula and gently lift the fish up to see if it's brown on the underside.
Once you've determined that it's brown, flip the onions and the fish over. When you flip the fish over, you can add a little more seasoning and oil. You can also add parsley flakes for color.

Cook for another three minutes until the underside is brown. This meal is delicious served with a side vegetable such as Swiss Chard, lentils or leeks.

Click Here for a Yummy Low Glycemic Chicken Soup Recipe


Campbell's Crockpot Porkchops:
Ingredients:
Two cans of Campbell's Cream of Chicken soup
One family size package of pork chops, loin cut
½ tsp pepper.

Directions For Low Glycemic Pork Chops Recipe:
Place pork chops into large cooking sheet. Shake about ½ tsp pepper onto pork chops and bake for 15 to 20 minutes. Place pork chops and two Campbell's Cream of Chicken Soup into a large crock pot and cook on slow for about four to five hours. The bones and flesh should separate and the flesh becomes very tender. This pork chop dish is fantastic on top of a bed of brown rice with a full salad.


Healthy Chicken Casserole Recipe

Another way to use Campbell's condensed soup is to make a healthy casserole.  Click here for our step by step instructions on how to make this low glycemic recipe!

Fast Asian Style Low Glycemic Recipe

Ingredients:
Red, green, orange and yellow bell peppers
One medium sized onion
One pound of ground beef
Tamari Gluten Free Soy Sauce or season to taste
Pepper
Directions:
For this recipe, cut up vegetables to desired size. Pre-heat pan or wok. When the pan is hot, place the ground beef in wok or pan and cook with half of the cut up onion. Cook until it's done. When the half onion and beef are done, then place the rest of the onions and the bell peppers in the pan and cook for approximately one to two minutes. These vegetables will retain their crispiness.
Warning: Your family will be grinning from ear to ear. This one is a gem.

This One is Called Chicken Vegetable Stir Fry

This recipe is similar to the recipe above. This is made with chicken, red onion, yellow, green and orange bell peppers. These recipes are similar, but use slightly different ingredients. This meal will warm your home and your belly. And it smells great.



Teri's Famous Low Glycemic Chili Recipe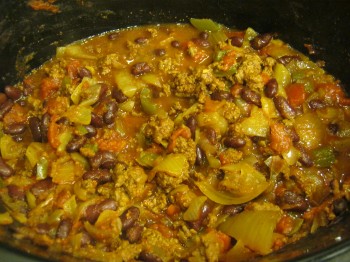 Ingredients:


2 cloves of minced garlic
2 pounds of ground beef
2 16- ounce cans of kidney beans, rinsed and drained

2 14.5 ounces of diced tomatoes

1 8-ounce can of tomato sauce

2 medium onions, chopped

1 green pepper, chopped

2 tablespoons chili powder

2 teaspoons salt

2 cups of shredded cheddar cheese


Directions:
Pre-cook ground beef in a separate pan. When the ground beef is done, then add all of the ingredients with the ground beef into the crock pot. Cook all of the ingredients in the crockpot on low for eight to ten hours. Top with cheddar cheese. Enjoy!
Advertisement
The health and diet information at The Healthy Diet Paradise has not been evaluated by the Food and Drug Administration, and is for basic information purposes only. If you have any medical issues or concerns, please contact your health care provider.
© Copyright 2011 - 2015